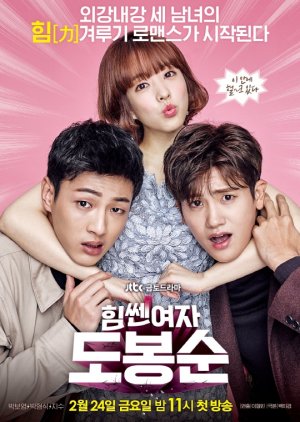 From the onset (episode 1), the drama was really interesting, it was really funny and I was always motivated to keep watching but I'm not gonna lie, I found Bong-soon kind of annoying in the beginning. I didn't understand how a twenty-something year old spoke like she was 5, don't even get me started on how she always said "guk-doo ya", oh my. But as the show progressed, I began to like her more and more and eventually loved her.

Even though I have given a very high rating, there were still some faults;
- Why did Guk-doo always seem to be in a bad mood? And come on, how can he say that he didn't realise Bong-soon was head over heels for him, now that's just ridiculous. Also, why were we never shown an interaction of he and his mother? Why did a mother and son who were recurring exist as completely separate entities? I always looked forward to their interaction (for some reason) but it never came. I know that Guk-doo was not written to be a character that we would obsess over anyway, so I would forgive his 24/7 straight/angry/confused face.
- Bong soon's superpower was over-exploited, she did some things that they weren't even able to explain e.g. we were never shown how she saved those women even though the place had been set on fire. Just a tad bit toooo unrealistic at times.
- I wasn't a hundred percent convinced with Ahn Woo-yeon's (Bong-ki) acting. A lot of the times he just had a confused expression, as did his to-be girlfriend Hee-ji, I guess they fit perfectly, two confused characters. I also have questions regarding how she so easily fell for him after one interaction but I don't want to be too fussy.
- Why was Bong-soon's mother's treatment toward the father tolerated? It was funny in the first few episodes but it got worse and worse and just became... abusive. I did not enjoy watching those scenes at all. Also her (Bong-soon's mum) and her posse were overdone, they became boring and were just a filler (I skipped a lot of their scenes)
- The comedy around the gang members (the ones she beat up in episode 1) was also overdid to the point that it became annoying and had me skipping scenes.
- The comedy around the police was also a bit overplayed, however, I liked how Guk-doo's personality contrasted his work colleagues, it helped him shine more as a main because a lot of the time, I forgot that he was a main; to me, he merely existed in Bong-soon and Min-hyuk's shadow.

Notwithstanding all the points aforementioned, I would still rate this drama a 9.5/10, I wish I could give it a 9.75/10 as that would be more true to my feelings but MyDramList does not provide/allow that option so what can we do. Again, the things I didn't like about it were merely small issues, they do not heavily influence my decision.

One thing that was portrayed EXCELLENTLY though was Bong-soon and Min-hyuk's relationship and both their individual character developments. Although I have one little complaint; how is it possible that he fell so deeply and easily for her? But you know, never try to see the logic in dramas or else you will have a million questions. Anyway, I found myself always anticipating their scenes together, they MADE the show and they also fit so well together.

Lastly, a lot of people did not like the mix of genres but I think that brought the show to life and was executed quite impressively.
Was this review helpful to you?