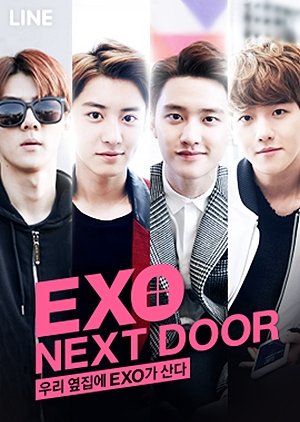 I wouldn't be surprised if the writers stole the idea off of the first fan fiction listed on wattpad. Only watch exo next door if you've seen every possible exo content online and need to feed your hunger, because everything else out there is better than this. I would never re-watch this piece of shit, I just gave 1.0 for rewatch value because that's the lowest that we're allowed to give.

I know this show is meant to cater to exo-l's but I am disappointed in the production for thinking that exo-l's would enjoy this joke of a show, It is an insult to us. Sure, if you're looking for something short, light-hearted and silly to occupy your time with, then this might be for you but you would get annoyed too many times because of the stupidity of the plot. Chanyeol's acting was below average, the other members didn't do much better either, but I would commend D.O. Also, the whole situation between Suho and Chanyeol was just so unrealistic. Most times, you will find it impossible to sympathise with any of the characters. The female lead was purely annoying, irrational and her mannerisms were not cute at all, I feel bad that the actress (Moon Ga-young) had to go through that.

Now one thing I did like about it was the OST- beautiful, Baekhyun did a great job, it's still one of my favourite songs out there.
Was this review helpful to you?