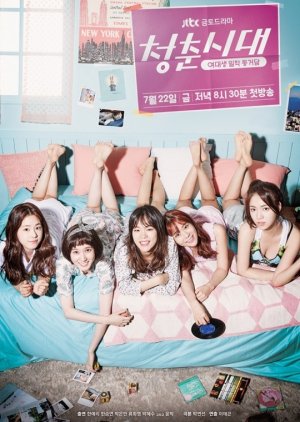 I'm not gonna lie, half the time while watching this drama I was really irritated. This was partly because of the mannerisms of Yoon sunbae and Yoo Eun-jae, I just couldn't relate to them. I know we're supposed to like Eun-jae but I really didn't. Especially her dual personality, she acted so differently when she was with her mother while to everyone else, she always seemed so scared and timid, that puzzled me. I couldn't stand her irritating way of speaking too. Speaking of, Eun-jae's mom was sooooo annoying, I could not stand her either. That said, the acting was mainly really good; shoutout to the actors of Go Doo-young (Ye-eun's deranged ex), Kang sunbae, Song sunbae, and Yoon Jong-yeol (Eun-jae's boyfriend). The only person I had previously watched in another drama was Ji Il-joo who played the role of Ko Doo-young and he did just as well as he had performed in 'Weightlifting fairy Kim Bok-Joo'.

Kang sunbae's story was the most interesting, I always looked forward to her scenes. Yoon sunbae's love interest was intriguing, I'm not sure how I feel about him though, I feel as though the actor could have done a bit better but he was decent enough. His intense feelings for her were never quite justified which made his acting not very believable. To be fair, neither were Yoon Jong-yeol's feelings for Eun-jae but I'm gonna let that slide. There was also never any explanation for Song sunbae's impulsive lying, as a result, I found her annoying at times. Episode 1 and the beginning of ep 2 were really really good but things just went downhill from there, I did not enjoy it from there up until like episode 5. It's safe to say that it took a while to get into as it got better in the second half. With that said, I really forced myself to finish this show. Another thing that really annoyed me was how the genre would switch between scenes, it was so sudden and didn't blend well. 'Strong girl Do Bong-soon' did this too but it worked really well. Also, what happened to the story of the old roommate?? they got us so excited and then just brushed it off. They also set up the housemates in episode 1 to be really mean girls so there's a sort of disconnect from the first episode and the others.

As I haven't watched that many dramas, this is the first one I've come across with only english songs and I'm not annoyed at all, the songs blended really well in the scenes and none of them were annoying. I LOVED the song for the opening sequence, so catchy!

Overall it was a good drama if you can bear the irritating things that the characters did at times and overlook parts of the story that seemed to have been dropped by the writers. If we're being honest, most dramas do this but it's bearable as long as it's not overdone. Personally, I'm not rewatching it, I can't put myself through some of the torturous scenes again (maybe a few scenes here and there though lol). P.S I'm really surprised that this drama has such a high rating of 8.8, guess I just have high standards.
Was this review helpful to you?