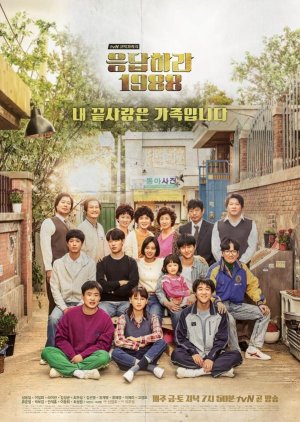 This review may contain spoilers
I love this show. Everything about it just makes me feel so good. What I love about it is that it makes me feel so emotional and happy. With other dramas, I'm usually only happy after completing them but with this, I was so emotional, in every way. As many people have also said in their reviews, this drama makes me want to go back to 1988, despite the fact that I was born 10 years later. It gives you this sense of longing to be a part of the 'famous 5' because you're so intwined in their lives.

Spoilers approaching

Characters
Overtime, I fell in love with Taek, he has such a lovable personality that for that reason alone, I wanted Duk seon to end up with him. I got frustrated at Jung hwan for not expressing his feelings but I loved everything else about him. Dong Ryong was my favourite character, he could always lighten up the mood, so lovable! I adored Jin-joo, both the younger and older version, she always restored a sense of innocence in the story so her scenes were refreshing to watch. Even though she definitely became more outspoken years later, it was interesting to see a different side of her.
Perhaps the best part about the characters is how none of their lives were sugarcoated. Each one was shown for their shortcomings and attributes that made them special, making them even more relatable.

Commendations
- I was pleased at how their childhood was not constantly focused on. I feel as though the few scenes we got to see of them in their childhood sufficed to portray their closeness. I feel as though this is a mistake certain dramas would have made so I am content with how the R88 writers illustrated the past. Given that the 'present' is also the past in the show.
- The production in this drama was amazing, no item felt out of place. It truly transported one back to 1988.
- I was also grateful for the lack of magic realism in the show, everything was realistic, making it a refreshing drama amongst its surreal k-drama counterparts.

Downsides
I am a bit unsettled at how the development of Jung hwan and Dong ryong weren't shown at the end, I really wanted to see how they ended up, or even hear about it from Duk seon, but we got nothing. Instead, we got to see/hear about grown up Sun woo and Bo ra even though I was more interested in Jung hwan's and Dong ryong's. Jung-hwan's especially. It's unfortunate that hiss character faded into the background in the last few episodes as I had really grown to love him. I got a little bored at the Man-ok/Jung-bong storyline after they had reunited. I understand that it was important to give Jung-bong screen time but I felt as if that screen time should have been allocated to the main characters. I was also slightly disappointed at how the pace picked up so quickly in the episode that moved the timeline 5 years ahead. As the audience had already adapted to the slow-pace of the drama, the jump felt a bit rushed and sudden. While watching that episode, I was not satisfied with how things were going.
To be honest, I wasn't too interested in Duk-seon's future (or shall I say present life) in the first few episodes. Despite that aspect of the plot being glamorised, I only got interested in the husband hunt in the last couple of epsiodes when it became a major part of the plot. Furthermore, I would've preferred it if Duk-seon's feelings for both the male leads were delved into deeper, she was a bit hard to read in that respect. Perhaps that was done on purpose by the writers to express how Duk-seon isn't someone who is always sure of her decisions, as it was manifested with her uncertainty regarding her 'future ambition'.

I can confidently say that this is my favourite drama ever.
Was this review helpful to you?