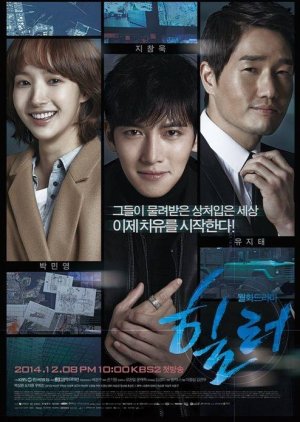 Where can I start.... watching healer was a rollercoaster of emotions. After finishing the show rather than feeling satisfied, I felt myself wanting more, asking more questions and wondering had happened that wasn't shown. Skip to the very end for my thoughts on the things that I wasn't pleased with.

Healer is very an interesting watch with a really unique concept. At first strange, but then you grow into the story the more you watch. I practically only watched the first half of the show (first 10 episodes) as sort of like a formality. Although I knew the story and understood the intricacies of the situation, I just couldn't bring myself to care. I didn't care for any of the characters or the relationships that were lost or those that were forming, watching the show was just a way to pass time. In the second half though, circumstances change and there are important things at stake, that's what really brings the story to life. Even then, I felt as though the only thing I cared about was the relationship between the two leads, but as time goes on, the rest of the story becomes just as important. The actors were really charismatic and took on the roles really well, but of course, honorary shout out to Ji Chang-wook because he was amazing.

The OST was nice too but nothing special, not very memorable. In conclusion, I would recommend healer as it's a good watch but you really need patience to get to the good part of Healer.

SPOILERS (only for those who have watched it)
As I said before, the show ended in a good way but I also felt a bit unsettled, here's why;
- Why weren't we ever shown things from the perspective of Kim Moon-sik? (Kim Mun-ho's hyung) You could clearly tell that he wasn't necessarily a bad person and there were reasons for the things he did. E.g; what led him to join forces with Boss? Why was he so hesitant on having Myung-hee all to himself? Also, we were never shown what had happened to him at the end, just a half-arsed scene where he was drunk. Regardless of whether he was a good person or not, he needed to be punished for his wrongdoings but that was never shown or even alluded to in the end?????
- This is also related to the previous point; What is Mun-ho's and Moon-sik's backstory? How did two brothers end up being completely opposite people, did they face abuse as children? Who are their parents?
- What led Ajumma to that stage in her life? They started to show a backstory but then just ignored it.
- Why was it so important for Healer's mom to abandon him as a child? Who threatened her and why?

I know I'm somewhat reaching but these are just the little things that bothered me, not to the point that it stopped me from enjoying the show though. I just don't like it when writers aren't able to fully portray the situation their characters are in. Anyways Healer is a really clever story and an enjoyable drama.
Was this review helpful to you?