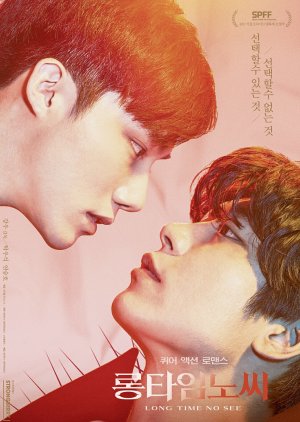 What can I say other than I adored this? How often do you find LGBT media with functional, real relationships that don't end in tragedy? Long Time, No See absolutely blew away all my expectations. Absolutely a long-time favorite movie.

Story: The story was cliche, but I live for cliches, especially mob-related so basically I adored it. Due to the length, certain very small scenes were a tad confusing if only because the cut into them seemed random, but they soon became clear. By the end of each chapter (which are usually ~15 min. segments), I had a very clear understanding of what was going on, so the confusion wasn't long-lasting.

Acting/Cast: I'm not gonna lie, for a small studio film, I wasn't expecting much re: the acting, but I was absolutely blown away. The actors are incredible and create such dynamic characters through facial expressions alone. They were an amazing cast that I would love to see in future dramas.

Music: So cute! The reoccurring song that played every time Gitae and Chisoo had a moment was sweet, gentle, and just downright adorable. It encapsulated that fuzzy feeling of butterflies in your stomach. The music for the action scenes were perfect for creating a high intensity environment, as well.

Rewatch Value: The only reason I am not immediately rewatching this movie is because I have to go to class in the morning. Needless to say, I will be watching this movie many more times in the future.

TL;DR: If you're looking for a good LGBT movie with great acting, a fun plot, and a happy ending, then Long Time, No See is the choice for you. Please support this movie and the studio STRONGBERRY by buying the chapters ($12) so we can hopefully see more wonderful content like this in the future!
Was this review helpful to you?