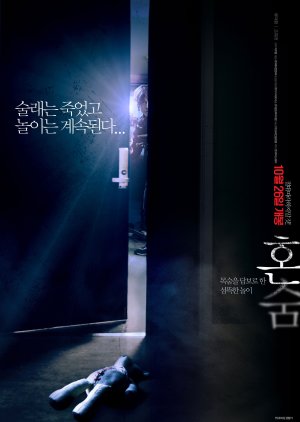 VJ Glow and PD Park are a duo that make a living by broadcasting their thoughts on supernatural and paranormal stuff via their channel Glow World on AfreecaTV. Think Bigo Live. Usually, they got their input from their fans. What they did was showed a clip (if any) surrounding the mystery and gave a comment about it. And if they received enough balloons, the currency in AfreecaTV, then they will visit the 'haunted' place. However, once they broadcasted a mystery, they knew they have to outdo it. They were in a stumped after their last mystery, as input from their fans were not helping as it wasn't 'haunting' enough until VJ Glow received a clip from WalkAlone about the infamous Japanese game Hitori Kakurenbo or Hide and Seek Alone. Apparently, a student went missing because of the game and her friend went crazy. The movie was played as if the viewers was watching it live complete with a chat scrolling on the right. I was on edge most of the movie 'hoping' for a jump scare.

The acting by the two main lead was superb because they managed to make it seemed real. Applause also to the girl who played the crazy student.

There's not much music involved as what the movie wanted was the sense that it was broadcasted live.

You'll probably want to watch it again to make sense of the ending. Yes, this is that movie where you need to use your brain cell to understand the ending.

Overall, this movie will stick with you for a period of time.
Was this review helpful to you?