The website is currently undergoing maintenance. Sorry for the inconvenience.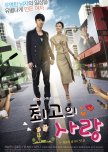 I'm coming back for thirds on this drama. Why? Cha Seung-Won and Gong Hyo-Jin. SW has a mature sexiness about him that makes his character very believable. His smokey voice and confident attitude make me wish he was the lead in more dramas. BONUS: There is a shower scene in the first episode-extra fan service. This man is in shape!
Hy-Jin's character is humble, sweet yet has enough spunk to make you want her to get back on top again. At first she's in a low place and DGJ is a jerk (tsundere) type that needs to melt to warm up but I like the tough guys that actually have a good heart deep down as long as it's not too deep. :D
It's not a new story in this drama: Girl is successful, girl struggles, girl meets snotty guy, girl and guy don't like each other but are thrown together through circumstances, girl becomes successful in a different way, attraction begins! -then this drama is for you, especially if you like your men mature and smoldering.
Also, I like happy endings and this has a happy ending. Enjoy!
Was this review helpful to you?