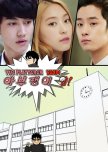 There is a lot of hate in the comments so I thought i would write a short review.
First of all this webdrama is based on a webcomic and is not wrapped up at all. For people who are fans of the comic this might not be annoying at all, but if you are a person who likes cleanly finished stories this might not be your piece of cake.
Story: The story is focused on the main lead who is trying to survive school. And I must say he is absolutely hilarious and a huge dork as well. I found it really funny how he screws up every time he has an opportunity. There are also subplots, which a have their own charm. If you expect to see real romance tho, you will be disappointed, because the moment the drama-lovetriangle-heartthumping moments could have started the drama ended. If there were a few more episodes such a nice bromance could have blossomed as well... such a pitty.
Acting/cast: All the characters in this drama are quite exaggerated, which is the main comedy of it. Overall the actors managed to do their part staying funny and not becoming annoying, which can easily happen in these types of comedies. I found Park Geon's and the red haired bully's portrayal the best, I enjoyed each moment of their screentime.
Music: The music want exactly outstanding, but it complemented the story well. Unfortunately my playlist wont become longer.
Overall, I found this webdrama very enjoyable and I will without a doubt rewatch it when I dont have much time, but want to have a really good laugh. It is indeed not the story of the year, neither did it get the chance to live up to its real potential, but I belive it is still worth the time.
Was this review helpful to you?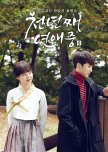 First of all, this is a webdrama. Webdramas are not for everyone, they might feel rushed to a lot of people.
Story: This drama had everything that agood drama needs. It had really hilarious moments, and heartbreaking ones too. It had a sweet second lead, and an at first jerk first lead. It had its own little world, that you can step into everytime you push the play button.
But what made this drama special for me was not any of those. This drama has managed to have all that darkness that the poster conveys, eventhough the episodes were lighthearted and funny. The goofiness is what kept the story from becoming depressing even when it had such heart clenching parts. I believe that the last episode really gave the show a plus layer and I found the last twist quite amaizing. Those last bits of happiness and tragedy made the enjoyable, but medicore drama splendid.
Acting: There were really good and okay actors as well. Overall, the acting was good, and since the characters were well done and easy to relate to, the worse acting moments were not that noticable.
Music: The show has its own song, which t first I didn't really like but I gotta say it grew on me. Definately getting on my playlist.
So, all in all, I would recommend this to anyone who wants something short, but entertaining and light-hearted, but deep drama. And of course if you wanna see gorgeous hanboks, then watch it already.
Was this review helpful to you?