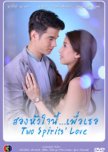 I finished watching this show just in two days because of the interesting twist in mario's character.
First the show gives the characters intro well and the story is well written. Mario is a cold boss who gets angry all the time and kewalin is a happy girl lives with her brother and she works in volunteering services with her bro and his friends. All the characters are perfect in casting the actors. The friends of kewalins bro are soo funny and it gives the relaxing feel when watching the show.
Acting of Mario with split personality is wow, he done a amazing job. The childish behavior of Mario makes melting over his innocence. When we think he is the person from past as we think , we get a twist in it too. That's the plot makes it more interesting from the writers. Kewalin gets angry always at the end of the serious makes annoying to see her scenes with Thun.
I like fantasy stuffs and so I like this show. And Mario nailed the acting in this show. So give it a try.
If u like the show you will definitely rewatch it once just like me.
Music is nothing special but matched the show scenes.
Was this review helpful to you?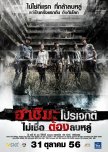 Hashima project is a ghost movie but without anything to get thrilled or fear. I watched it bcoz of mike and aom. This was before they acted full house so they are not close to each other even for a single scene space.
Five friends who goes to Hashima island for shooting some ghost videos but still they have fear to face the ghosts. The ghosts haunting the five people from the island to their place in Thai is like seriously?? Only good thing is Mike's acting and the last scene which reveals the truth of what happened in the island.
The scenes are very much dragging in the beginning and when the end comes near almost all the scenes are predictable but still confusing.
If he is not there as he is, then how Aom was died (watch the movie and you will understand what I am saying) acting was good by all actors.
Music is not so good but ok type. Rewatch value is no for me. Bcoz no such scenes in this movie which can make you to rewatch the movie again.
Overall it's just a time pass movie with no impact in our memory.
Was this review helpful to you?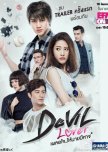 Devil lover series is good if you want to watch a fantasy drama with some rom com. The leads are good but I think the supporting actors and the others who come for one episodes should perform more. It looks fake when they act in that role. Golf as Sora made the character very realistic and pie as female lead is also good in acting.
Things I liked in this show is the fantasy element how things float. And Kirin is good in making you laugh. Sora and his rom com scenes with Pie is adorable.
Things I hate most in this drama is momoko and her hairstyle. She looked like a cartoon. Poor acting of other characters. And also when sora gets nose bleed almost in all episodes it feels like he is having some terminal disease. But it's not any disease tough. Kevin's role is almost evil but not having any impact in the story.
Music is ok type. The title song is good which is sang by the two leads. But the background music are used in almost all Thai dramas I have seen. So I wanted something new. No other songs are played in the show other than the title song and its musical version.
No rewatch value. Can watch it once.
Overall this show can be watched once if u like fantasy elements.
Was this review helpful to you?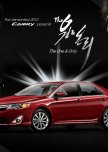 If you are thinking it as a drama, then let me clear you all, it's a advertisement made for Toyota car. But with a small dramatic story in it. Joon and Kwon are twins which is Lee min ho, one is a good one and another one is bad. I liked the way Lee min ho acted as a bad guy, bcoz I always want to see him doing a negative role. Each episode is short so without any boring other characters we can watch only the main casts. Music is good and Lee min ho's my everything is used as the main song for this show. The end of the story makes you confused who is the actual Joon or Kwon. So it gives you interest to watch the sequel
Was this review helpful to you?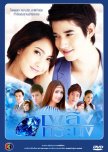 This show gives the typical family drama of Thai. Although it's having Mario in it. I started watching it for Mario only, and it given some nice scenes where we can see his acting, bcoz Mario looked matured in acting some scenes. The female lead is good too, but her scenes with Mario is always fighting, which leads to the love between them, the episodes are Long and soo many characters which are unwanted. The aunty role was soo evilish and hero's mom is soo good in nature, I like khun Sita who is our female lead's sister. Her role is also very good, she loves our hero, but when she knows he is loving her sister she supports him and leaves peacefully from their life. Overall this show is good, but not the best and nothing is new, if u like Mario and like to see Thai drama, with family story, then you can give it a try. I watched it only once and I don't think it can be rewatched.
Was this review helpful to you?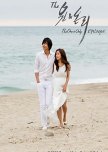 This second season shows you the actual story of Joon and Kwon. And gives you the reason behind why Joon is good and Kwon is bad. And also it makes you confused who is Joon and who is Kwon again. They think Kwon is captured and so they are happy, but when the twist comes it shows how the twins got into all trouble. Even tough one is bad, still he loves his brother. And one of the twin sacrifice his life for the other. Music is good and song is my favorite my everything by Lee min ho.
Was this review helpful to you?