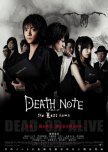 My first review! Lets hope I get to everything...:)
I loved the cast. Fujiwara perfectly portrayed Light, at times acting as the composed, intelligent, passionate indivitual he once was. He was clearly able to get across as someone who had lost their intentions, going mad with power and more then willing to kill to protect himself.
Matsuyama was the very image of L! It was like seeing L come to life, by the very way he sat, gorged himself on sweets, and his every expression! There was no one better then him.
The music was mediocre, it matched the mood faily well but didn't leave much of an impression.
THE STORY WAS FREAKING AWESOME. Nothing can compare. Death Note didn't have any wholes in it, and it was a piece of intellicuel art. Though for the movie some things that happened in the anime had to be left out for time purposes.
This movie is more then worth your time, and its so good you will even get a thrill out of watching it again and again.
Was this review helpful to you?