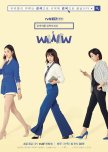 This review may contain spoilers
-STORY-
What I love about this drama are:
1) Fierce and very knowledgeable women. Women who knows how to run IT business, women who read books and know how to argue. I love how Tami conducted one-on-one interview to know her subordinate better (I bet she read so many books about human capital), love that she has willingness to learn and grow from people`s criticism and dissatisfaction toward her. I love how Scarlett always coming up with bright ideas (how to make trending topic bar much simpler), and I adore how SGG keep consistent with Unicorn image though they lost market share by slight margin. She says (in much simpler word ;p): "If Barro`s image is "friendly", I want Unicon keep their "unapproachable" image as it is". Go Unicon! I believe you still have many loyal users! :)
2. The main leads problems and roller-coaster relationship are mind-stimulating and successfully gather people to discuss their Point of view. I love to read comments and reviews on several platforms JUST to see how people react to the story development of our main lead, I am happy to see people discussing Morgan and Tamy personalities from various perspectives. I feel content, I feel brilliant after reading posts on the discussion forum hahaha
3. ISJ-JKY Chemistry. I love how they "play" with the viewers emotions through their instagram posts during the drama broadcast. I bet JKY really adore ISJ a lot hahahaha, go JKY you still have several years before military enlistment! go get your bae ta mi :)
really my friend! If the comments and review section of this drama is all about "Oh how cute you two!" Oh my puppy you are adorable"" "Awww why you so handsome!!", i will definitely drop this drama from the first episode.
-ACTING-
This is my very first time watching ISJ, JKY and LDH drama and wow they played the role really well. For ISJ, I applaud her for superb acting skill!!! I cant imagine other actress playing BTM Role... ISJ especially has soothing voice but when she talks in a meeting as the team leader, you can hear her tone become more firm and charismatic. I really really hope she could win Baeksang for best actress.
LDH is also a great actress, I hope she takes various roles and I believe her name will be on the Baeksang nominees again next year.
As for JKY..I watch his post drama interview and there he said he feel quite dissatisfied with his acting on the several first episodes. romance drama is hard he added. and yes I agree with his statements because as much as I love the explosive chemistry between JKY & ISJ, I can feel sort of emptiness on JKY`s face on the first 4 episodes. BUT! he indeed improved from Episode 4 onwards, and I am a proud viewer hahaha
-MUSIC-
A very nice music with lyrics that fit the story line. Especially Kim Na Yong -I Get a little bit lonely, wow is it Bae Tami herself who wrote the lyric???
-OVERALL
IF you are a fan of Japanese drama and feel hesitate to watch korean drama coz you hate cliche and cheesy line, you should try this one. This will change your perspective on Korean romance drama forever.
IF you like drama that has a good balance of business-work and romance then you will enjoy this drama for sure. If you are NOT OKAY with deep dialogues and constant interesting argument between main couple who has different point of view on marriage then you will not enjoy this drama. OR you will enjoy this drama a little bit but you will leave comments on every forum you signed in: "Please please this couple is boring, I need more screentime of other two couples" hehehehehehehehhehehehehehe
Thanks for the spectacular script, writer-nim!!
Was this review helpful to you?