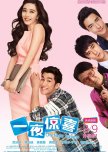 when i first looked at this page, i was surprised (hah get it?) to find that there was no review and was tempted to watch it for that reason.
this movie is very obscure considering it's plot i would've thought there were some love as the recommendations for three dads one mom and one night stud have.
i had yet to have seen a chinese movie but i was pleasantly overwhelmed at the slapstick comedy and humor this movie had to offer.
for the plot i gave it a 7.5 rating because it was a somewhat new idea but played very cliche-ingly. a woman gets drunk and gets pregnant from a one-night stand? big deal! the father is someone among her coworkers? hmm i see... i don't want to lie and say that i didn't skip a few boring parts in the movie.
interestingly enough, the plot manages to tie itself together and make for a somewhat enjoyable comedy with a few moments that got me teary (ugh).
acting and cast was.......decent enough. definitely enjoyed the eye candy.
music??????? there was music??????when?? lol (i mean that it was forgettable and didn't really make a big impact on this movie so low rating for music)
lastly, for rewatch value, as boring this movie was i did enjoy it and laughed here and there so i can definitely say theres a small chance ill revisit this movie again. it was a nice break from all the goblin angst im going through atm.
hope my review was of some value!
Was this review helpful to you?