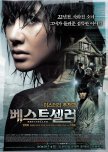 I love mystery movie, so this was a must watch for me.
and I DON´T REGRET IT ! it was a great movie, with a good storyline :)
The Female Lead was a little bit annoying, because of her high screams. it hurts my ears. xD but this was the one and only negative problem for me :D
I give 10 points to rewatch value because i see this movie 3 times, its such amazing, and thats why i have this movie under my fav list.
when you like mystery/ghosts storys.. so you must see this movie !!!
Was this review helpful to you?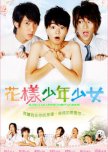 sure, the japanese version IS THE BEST !!
but this version of Hana Kimi was good as well :)
i like it very much.
at the beginning i hate the girl, the taiwanese Mizuki. her acting was a little bit awkard and too much for me.
but now, after termination of the drama, i must say: she done a good job !
Now, Im a new fan of Wu Chun.
wow. he done a good job, too :)
TRY THIS DRAMA.
it´s very entertaining and funny.
Whenever I looked at it, I've always felt totally well after!
Now I'm very sad because it's over ! :(
Was this review helpful to you?