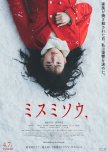 This review may contain spoilers
I will make this review short and simple, describing my experience and how I came to watch this movie.
I was browsing through my regular streaming website when I first saw Liverleaf. I was bored and looking for something to watch. I saw a cute japanese girl on the cover, and assumed it was a romance movie, which is usually my type of genre. I went in blind without reading any plot summary or looking at what genre it was. I watched the first 40 minutes of this movie thinking it was going to be around the love triangle between the teenagers, while they experience tough times. Then once the bloodshed began, I was thrown off, I literally shouted ''What the f*ck!?!'' and my roommate even came in to check on me. Watching this movie, without any clue about what was going to happen was probably the best viewing experience in my life. I literally didn't see any of the events coming and at the ending I was left with a feeling that I honestly cannot describe.
So my honest review of this movie is as follows: If you watch this movie, going in with no expectations at all, you will probably have one of the best viewing experiences ever, it has plot twists, gore and good characters. Watch this movie.
Was this review helpful to you?