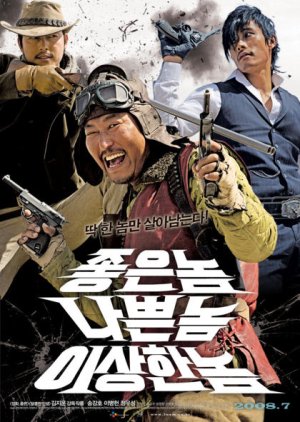 I really liked this movie. It had a western type feel to it. I think that may have had something to do either w/ the horses or the dirt. I'm not sure which. I really liked how the story progressed & how the 3 main characters were linked. There were really awesome fight/shoot out scenes. I am not sure how accurate the history is on this, but I did look up Manchuria region & how it connected the 3 countries. Well 4 if u count Russia. It was interesting the history of the region.

The male lead in Iris is "The Bad" in this movie & he does an excellent job of playing his character. "The Weird" is comes out to be more than u expect him to be in the end. "The Good" is the most accurate moving target shooter I have seen in any movie. I have never understood how they expect ppl to believe that u can hit a moving target when ur moving as much as the target. I can kinda understand if ur standing still, but moving like they do in this movie; I'm not so sure. But it is pretty cool to watch.

I enjoyed watching this movie, it made me laugh, it made me think, & it made me grossed out (cutting off body parts). I hope others enjoy it 2.
Was this review helpful to you?