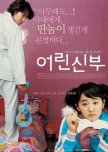 Let me just start off by saying that... this movie was just too cute :3 Honestly, I didn't expect to like it so much for me to give it a 10! I know the whole forced marriage situation is overused, but for some reason, I felt that it played out differently in this movie.
What I most enjoyed? Kim Rae Won's character, Sang Min, is probably first place. Afterwards, Moon Geun Young. It's funny, because at first I hated Bo Eun for the way she treated Sang Min. But at the end, you can really see she regrets what she did, and manned up to it. Also, her acting is really genuine. I haven't seen many dramas or movies, but I can still say that her portrayal has been my favorite. No exaggerated facial expressions, thank God!
And finally, the story itself. I didn't see any over-the-top "comedy" scenes, or those crazy dramatic scenes you see in most dramas or movies. This was the light-hearted story I've been looking for ever since I started watching dramas. Seriously, if you're doubting about watching this, then don't. I recommend this to anyone!
Was this review helpful to you?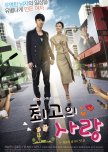 I hesitated to watch this drama a lot, mainly because at the time the summary didn't intrigue me. After a while, however, I finally decided to give this a shot! I don't regret watching this, it was quite entertaining and hilarious, but I don't think it deserves the large quantity of praise it has received (a lot of 10s lol).
What I liked:
-Dok Go Jin: Seriously, his portrayal has been one of my favorites. I'm not a huge fan of over-exaggerating, but when it's done as funny as Cha Seung Won did, then I'm not gonna complain. He was one of the reasons why I laughed so hard watching this. He is honestly the highlight of the show! "Oh-kaaaay!" "Perfaaaact!" "Paaaaantaaay!" I'll never, ever be able to listen to those words without remembering him :P
-The melodies: OMG some were so random, but they had me laughing. Honestly. Especially whenever they played when Dok Go Jin did something. There was this "suspenseful" one that had me ROFLing. Like Dok Go Jin would say, there were peeerfaact!
What I didn't like:
-The fact that it wasn't able to suck me in like most dramas I've watched. Don't get me wrong, this was good. And I watched the first 5 epis on the same day, no breaks in between. But there was a moment in the middle that I nearly dropped this drama (which I'm glad I didn't). It wasn't slow... but it just didn't pull me in as much.
-Gu Ae Jong: At first I loved her. Then she annoyed me. Then I disliked her. And then I didn't hate her. Some of the decisions she pulled off weren't my cup of tea, but I still rooted for her (thankfully).
At the end of the day, this drama was far from bad, but it didn't reach the sky-high expectations that had been set out for me. However, I do recommend this to people who are fond of the jerky-more-like-adorable main male leads :)
Was this review helpful to you?