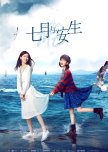 This review may contain spoilers
I stopped watching this drama a couple of times, but tried my best to finish watching it because I personally can't stand not finishing any dramas. But the plot of this drama... it is quite cliche and just, too much? The main character An Sheng, that is portrayed by Shen Yue, gives up easily for her best friend, Qi Yue, portrayed by Chen Du Ling. I understand that she really treasures the friendship and would do anything for her, but sometimes some of the scenarios are just too much? And their friendship goes under the rocks as many problems occur, but in like an episode or two, they're back to being best friends. An Sheng has also done selfish things to Qi Yue, but tries to justify it as doing it for Qi Yue's good. But close to the end of the drama, I feel extremely bad for An Sheng, because I realised that her entire life story is just very sad, but Qi Yue has such a good life story. I don't really understand why the script must be written in a way that An Sheng's life is just going to be this plain sad, and everything she does, would not benefit her and benefits Qi Yue instead. In the first 40 episodes, the plot moved very slowly, but in the last ten episodes, it just feels like a F1 race, where the plots just speeds up. Just in short, it's not a drama that you would finish watching or want to even re-watch.
However, I would say that Shen Yue is good at portraying her character, because I truly feel bad for her when I watch the drama. However, Chen Du Ling's acting. . . I feel that she isn't able to portray much emotions? Like I don't feel touched by her acting at all.
Was this review helpful to you?