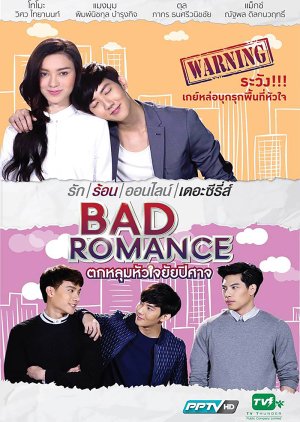 Just to balance out my glowing reviews of a couple other Thai series...let it be known I thought Bad Romance was bad.

The plot is a standard Thai rom com, with a lot of really absurd contrivances and a Scooby Doo sort of resolution.

I love absurd contrivances. But they have to be accompanied by three-dimensional characters, and that's where BR fails.

Interestingly, a few of the main characters became much more interesting in the subsequent prequel to BR, Together with Me. But here the heroine Yihwa just seems to be going through the motions of a rom com, with the equally uninteresting Cho.

I can see why many viewers thought the most interesting thing about this series was the side romance between male characters Knock and Korn. But this, too, falls flat compared to BL series with better scripts. The dialogue never gives us any insight into the personalities behind the squabbling. The actors playing Knock and Korn have occasional moments of chemistry, but they feel sparse. Their stiffness here is a world apart from their steamy performances in the prequel, Together with Me.

I'll admit, I skipped around a lot in this series. Life is short and I just couldn't watch every scene. There's too much bad dialogue and weak characterization.
Was this review helpful to you?