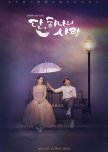 Pleasant, but not impressive
PROS:
- strong start
- adorable leads, great chemistry & emotion
- beautiful music
- Shin Hye-Sun's outfits and appearance
- ballet scenes
- acting overall
CONS:
- weak second half (except for last two eps)
- flat (two-dimensional) side characters
- predictable ending
- nonprogressive storyline
- too many back and forth scenes
It was an okay drama, I liked it mainly for the leads' chemistry and especially Shin Hye-Sun's screen presence. L as Dan was surprisingly cute. However, somewhere around the second half I felt like the story wasn't really moving forward. The focus had shifted from the female lead's path and ballet to...yeah, well that's the question. The ending was nice, but couldn't compensate for the lacking second half.
Was this review helpful to you?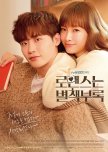 This was one heartwarming drama. As an avid reader and bookstore/publishing house - lover (really anything that deals with books), I just had to watch this show. Sure, the romantic story of the main couple is nothing new – a "noona-I-love-you-notice-me"-themed script which seems to be quite in vogue again recently (Something in the Rain, Encounter...), but what makes this show so enjoyable and unique is the way it is depicted.
Be it the plot, the characters, the setting (the lovely office, the neighborhood Song Hae Ri always finds herself ending up in), the costumes, an environment consisting of BOOKs, the little poem-like monologues at the end of each episode - everything perfectly and moreover, naturally fits into the story.
The plot itself is coherent and well rounded: no lack of logic, no unanswered questions, no rushed ending – everything is well scripted and accurate in every detail. Even though it is not an overly exciting or suspenseful story, with its clear path and the way the story unfolds RIABB holds the viewer's interest until the end.
The characters and their relationships boost the story and make this drama an enjoyable ride. Even though we have a clear main couple with star actor Lee Jong Suk, it is the whole cast which shines. Each and every character gets his/her fair amount of screen time and we witness the character grow as the story progresses. Be it the feisty Song Hae Ri, boy-next-door (literally) Seo Joon, stone-faced yet soft-hearted Yoo Sun, the bubbliest couple Ji Yool and Hoon and others..all of these characters are so endearing and relatable and their working and personal relationships as well as their worries and struggles just make us want to be a part of this precious Gyeoro-family.
I have seen complaints about the female lead – since she does not measure up to Prince Charming Lee Jong Suk, but I feel she is quite charming in her own way. She seems authentic in her role. I really like her character and I also think that the mains have a great chemistry – it is sweet and in some way innocent, you can clearly see the intimacy and understanding of each other only a friendship of decades can create – so kudos to the lead actors for portraying and conveying it so well.
And last but not least an appreciating paragraph for releasing a drama that deals with books and a publishing house (THANK YOU, any other recommendation?) I did watch 'Chicago Typewriters' where the lead is neither foreign to books since he is an author and I liked it for other reasons, but RIAAB really makes you appreciate books and each and everyone who works on writing, editing, publishing and selling a book. All you booklovers out there, this drama is for you – non-readers, watch this show and fall in love with actual printed books.
'Romance is a new book' is one of those rare shows which leaves you with a smile and inner warmth an the end of each episode. It is a show you can watch on rainy days or times you feel depressed but also at the beginning of springtime. It is a light hearted, sweet drama. RIAAB – the moon really is beautiful (watch the show to get the meaning!!)
Was this review helpful to you?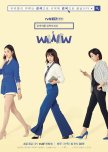 Simple, yet entertaining
search: WWW offers everything a drama needs: tension, comedy, romance and above all, an engaging plot carried out by a reliable, entertaining cast. The women in this drama stand out with men portraying rather side characters but nonetheless, well-rounded ones. Even though the focus is set on the female characters the drama does not scream WOMEN EMPOWERMENT in your face. Yes, the female leads are strong, but in a realistic way with flaws, worries and weaknesses of their own.
The story is simple, but hasn't got boring so far. I am rather stunned that there are only four episodes left with so much going on; I really hope that the ending doesn't seem too rushed.
The three female leads have an equal amount of screen time and each of their stories has enough content about the struggle and perks of a successful woman in modern times to keep you interested in their lives. The work life in the web business, which all three have in common, offers interesting aspects about the huge impact of the internet and search engines on our daily lives and depicts how the internet forms and affects today's society and vice versa.
I could go on an on praising this drama, its plot and the cast, but I'd rather you see (watch) for yourself what makes this drama great. The drama's strength lays in its cast and the realistic portrayal of the internet business and a self-made woman's life; its only weakness may be the tacky intro song in the beginning of an episode (apart from that the OST offers some lovely songs!)
Definitely one of my favourite dramas of 2019!
Was this review helpful to you?