The website is currently undergoing maintenance. Sorry for the inconvenience.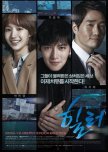 Healer
1 people found this review helpful
This one of the dramas that I watched halfway through and then decided to skip to the last episode as it was getting slightly boring. The acting was amazing but the storyline wasn't really to my tastes. I thought that this was going to be an absolutely amazing drama however I was thoroughly disappointed. I thought there would be lots of fight scenes and less scenes where the girl is crushing on a misterious figure whom she has never seen and beats up people for her. It was more of a gooey romance than an action espionage story. I am only expressing my opinion not anyone elses when I say this drama was okay but it could have been better...
Was this review helpful to you?