The website is currently undergoing maintenance. Sorry for the inconvenience.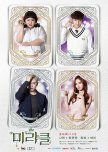 Going into this it was a pretty pleasant suprise opposed to the much longer/1 hour+ dramas I have been watching lately. Overall this drama was very cute and a nice short length (10-15 min) to make it easy to binge to. It's obviously quite cliche but for me I love watching those every once in a while. Even though in a whole I liked it I felt like they could have did so much more with the plot and show more of the actual interesting parts of it. Just don't have too much of a high expectations and look for something nice to pass your time because "The Miracle" will surely provide that.
Was this review helpful to you?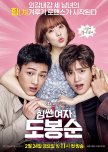 Personally I loved this drama, usually it's hard to get me to laugh but during this I was laughing every time. It has some very interesting takes showing you things you've probably never seen in a show before which is great especially if you get the kind of gags they are trying to tell. All the characters were v cute and likable especially the love triangle will make you want to tear you hair out on who to ship. Honestly I was debating on actually dating Do Bong Soon myself. The soundtrack is definitely not one to miss and it's the same with just little sound effects they used during the scenes that you probably won't forget. In a whole, it's the best thing I have had the pleasure of viewing this year and I highly recommend it. I hope you'd like it as much I did, peace.
Was this review helpful to you?