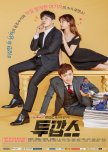 Two Cops
10 people found this review helpful
Let me start with saying that this drama had one of the best bromances ever!
In the beginning I wasn't sure if I should start watching this drama but I decided to give it shot because of the cast and because I really enjoy watching detective dramas, though this drama wasn't the best out there it definitely didn't disappoint me.
STORY: The story wasn't anything new or magnificent but the "two-souls-in-one-body" thing brought some fresh air to the story.
 The thing that I disliked the most was that the story became a little draggy and boring  in the middle and I was actually thinking about dropping the drama but it got so much better towards the end.
The thing that I liked was the comedy and humor in the drama, I loved how the thungs and the cops were friends and helped each other out.
ACTING\CAST: I loved the acting in this drama, except for Hyeri but I don't think it was the acting that I didn't like it was the character that she portrayed. I loved the casting, especially the two male leads, they fit their roles perfectly. Kim Sun Ho is a newbie in the kdramaland but  his acting is really good and the same thing goes for Hoya.  Jo Jung Suk can have chemistry with a potato so that wasn't the problem here but I liked the chemistry between the second couple more.
It was the first time I ever saw Im Se Mi in a drama and I really like her now.
BROMANCE: I'm a sucker for some good BROMANCE and this drama didn't disappoint. It was that kind of "Hate-to-Love" bromance between a conman and a detective. Their interactions were super funny to watch and as partners, they were perfect for one another. Gong Soo Chang became like one of my favourite charactesr ever. 
ROMANCE: There wasn't that much romance in this drama. I didn't really care about the main couple they were kinda ordinary but the second couple is what I totally loved, they were so cute together. So don't worry romance lovers!
MUSIC: The music was pretty good, I liked all of the OSTs, they  fit the drama  well. The music  wasn't annoying or distracting, I liked how this one melody\sound started playing everytime something exciting  was about to happen.
REWATCH VALUE: I would definitely rewatch this after some time, when I forget what exactly happened in the drama. One of the reasons for rewatching would have to be the bromance and the romantic relationship between the two supporting characters.
Overall, if you are looking for something with good bromance, you should definitely watch Two Cops!
Was this review helpful to you?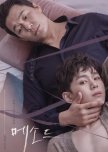 Method
1 people found this review helpful
It was totally different that what i had expected and I must say that I loved it!
This movie is bit more mature and heavy but I enjoyed that. It is nice to see how there is more and more movies and dramas about gay relationships, especially in South Korea where homosexuality is not totally exepted yet.
STORY-The story was really interesting it was nothing like what I have ever seen before, it was hard to tell what was going to happen next. There were moments where it wasn't quite clear if they are playing their characters in the play or just being themselves but I think that is what is so cool about the movie.
The story was a bit rushed because the movie was only 1h 22min long, it would have been better if the movie was around 2h.
ACTING/CAST- In my opinion the acting in this movie was great, the actors fit their roles really well. Although the agap between the main leads was 18 years it didn't disturb me at all, so don't worry the interactions between the actors weren't cringy or uncomfortable to watch at all.
For a rookie actor Oh Seung Hoon did a great job, this was his first movie but you really can't tell based on his acting.
Park Sung Woong's acting was also great as expected from a veteran actor.
MUSIC- The music compimented the story very nicely and I think it played a big role in this movie.
ENDING- What I like about this movie is that the whole story wasn't predictable, it was really hard to tell what was going to happen in the end and that's something that doesn't happen often with romantic movies.
I didn't like the ending but when i think about it it went well with the story.
All in all I really recommend watching this movie if you want something different from those sweet, cute romcom movies.
Was this review helpful to you?