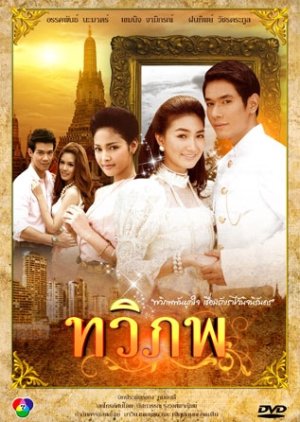 To be honest, it's like a lesser version of bpoop phaeh sanniwaat. The story is okay, but sometimes it felt like they made Manee way too dumb. If she comes from the future, they could've at least given her a bit more intelligence and make her stand up for herself, but she just seemed thick-headed at moments. Also, she behaves very immaturely and often is monkey-like in her actions, which made it hard for me to relate to her and get into the story fully. There were also a few episodes that were based off of one little misunderstanding and it was blown out of proportion. Thep was about as emotional as a chair, but then suddenly was able to show expressions at certain moments. I do like the poker-faced guys though, so I didn't mind that.

The actors did what they could with the script, I understand it's really hard to act as if you're in another time at another place, but they did well.

It's a good lakorn though, don't misunderstand! If you wish to watch a good romance, just skip the parts where they talk about work and the parts in the future. It'll help you get through it when it starts to look dull.
Was this review helpful to you?