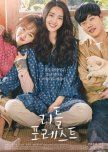 Kim Tae Ri does a phenomenal job in this remake. The movie and acting was refreshing along with the beautiful cinematography. The movie's plot is not dramatic, but instead displays emotional recovery through going home, and looking at your roots.
Her journey of figuring yourself was well done, and showed that she was not perfect. Tae Ri made the character human and showed a deep sense of self reflecting. There was not a lot of sub plot there was a sprinkle of romance and themes of relationship but it was nice to have a story arc that did not focus on a girl choosing a man to love. Instead she had to come to love herself.
Would I recommend this?
Absolutely! It is a perfect movie to relieve stress, and especially good after a heartbreaking movie. This is a type of a movie that you can just watch and enjoy.
Was this review helpful to you?