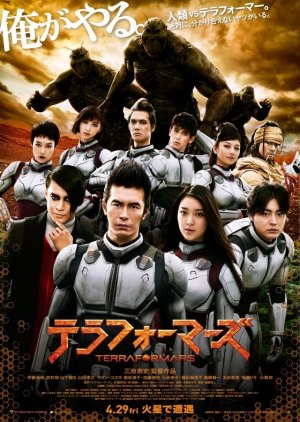 This review may contain spoilers
My overall rating of this movie is 2/10 and I'll explain why. Let's start with the story. There is nothing wrong with it... It's a pretty creative base to an alien action movie and if executed well it could have turned into "Movie of the year". It had a lot of potential but sadly this movie did not live up to it. The Characters, (Beware of spoiler - ish comments!) This is a war movie so obviously, people/monsters from both sides are going to die. But don't worry, you're not gonna feel sad watching them get brutally ripped apart because you're gonna have only a few seconds with each character. What happens is; They briefly tell you why they are criminals and then for the rest of the movie, you get to watch them die without knowing their full names, their background stories, their dreams, who their loved ones were or how they got into this mess in the first place. Out of 7 or 8 forgettable main characters (Can't be bothered to remember how many they were), you only get a half-butted background story for 2 of them. Not to mention that at the end they try to make you think they were best buds, even though some characters barely had any screen time together. The Make-up and the CGI Okay, so a lot of people gave this movie some really big thumbs up but as I understood it, all they could say was good about this movie, was the CGI... I have to admit that the CGI was better than most Japanese action movies. It actually gave me some hope for the upcoming Live action adaptions of FMA and Joe's Bizarre adventures (Even though they picked Yamaken to play a macho man when he has a typical ikemen face...). The make- up was not too bad either. I don't know how to feel about people being half morphed into insects but they were very creative while trying to make it work and it looked pretty okay. The music No comments. Not memorable. Actors. I don't know what to say. All of a sudden Yamapi starts speaking English then a Japanese terrorist starts speaking random English, both for no reason at all... I guess the acting was okay, though. Not much to talk about since they did not get much screen time and the script was a mess. Well... The whole movie was a mess so if the actors couldn't show their best performance, it wasn't their fault. To sum it all up The story was good. It had a lot of potential but because everything was so rushed it couldn't live up to my expectations. Had they divided this one movie into 3 movies and added more detail it would have been more interesting. The characters were hollow so I could not emotionally connect with any of them and the actors did not have so much space to act so their general performance was bearable. The visual effects were better than expected but the music was not memorable at all. In the end, it was barely entertaining enough to keep me watching so I give this movie an overall 2/10 I do not plan to watch any upcoming movies.
Was this review helpful to you?