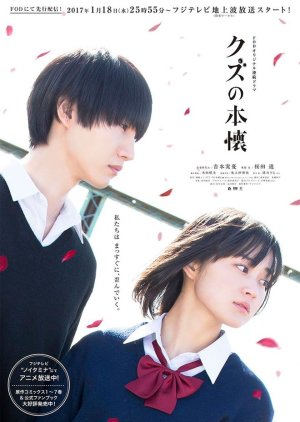 Rated this 7/10

... Because a drama educating adolescens on love and loneliness in high school, can't score higher.

7/10 is not a bad rating and I did not dislike this drama. Honestly it was very entertaining to watch and it was very well made. The actors did an incredible job despite being so young and I have great respect for them, since they pulled off the "Mature" tag without making it seem trashy or unrealistic.

Before watching this drama you should prepare for:

sexual scenes (Underwear, over the bra touching, covered up sex scenes, making out, and other mature content.)

A lot of inside dialogue

Lesbian love

High schoolers making countless mistakes and being generally butter brained.

The feels.
This drama will not make you cry but since it is a Jdrama, don't expect things to go the way you want them. This is basically a drama showing how people grow with time and experience. YOU WILL FEEL FRUSTRATION

It was very well made, so if you have nothing against the things listed above, I think you should take your time to watch this. It will be a nice memory and each episode is only about 23 minutes long. Nothing to lose and it will surely be an experience.

ENJOY!
Was this review helpful to you?