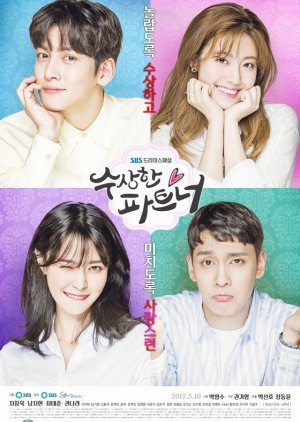 8/10

...cause if all the ends are tied at episode 38, don't make 40 episodes.

If you're considering watching this, this is what you should expect:

Great acting. All the actors did a great job portraying their characters. If you're a fan of JCW you will not be disappointed. Also a very special hats off to Dong Ha who plays the criminal in this drama. He was outstanding. I'll be following his work a lot more after this.

The sub story was amazing.
It really took me by surprise. I've never seen such a well thought out and executed villains plot and it was very deep and moving. They had all the right twists in the right places and I love that they put out subtle hints throughout the drama, warning you about the final twist, so subtle that I did not figure it out.

There's an on and off relationship.
The reason I'm calling it a sub story is because it gets over shadowed by the romance.
Indeed this is a romance thriller but I would have wished for more emphasis on the "thriller" part since that part of the story was so great. Although I love a bit of romance, I can only take in the right amount and when it's an "on and off" relationship like in this drama, I want to shoot the female character. Therefore I will not be taking my hat off for the lead actress. Because of her character and because I didn't really enjoy her acting.

There is also a few faint love triangles moving around but it was bearable. they lasted very shortly and all the female and male characters were all very cool about.

38/40 episodes.

They could have easily wrapped up the whole thing at 38 but they added 2 extra filler episodes. As if you didn't get enough romance through out the entire drama, the last 2 episodes will put you in their everyday, boring life, which, if you're anything like me, will make you hate the lead actress more than you did before. But you can end the agony anywhere you want. 38, 39, or 40. Depends on how much you care about their romance.

Overall this drama was very enjoyable, the acting was great, the characters were a piece of work but that really made them feel realistic. Hope this review was of any help to those who are still considering, instead of pressing play.

ENJOY!!!
Was this review helpful to you?