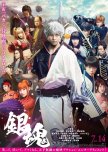 Gintama
9 people found this review helpful
The movie came to my city recently so as a big fan of the series I had to see it! I'm glad I did. Excuse my word vomit as I attempt to review this. I'll try to take new viewers into account even though I'm convinced like 95% of the people checking the movie out are fans haha.
Story:
For sure, this is a movie intended for fans rather than newcomers (even the Yorozuya lampshade it in typical Gintama-style). It's not a great way to introduce someone to the wonderful bizarre world that is Gintama - the setting and protagonists are introduced rather shortly and then we jump right into the story. If you're not familiar with the series then you may have a hard time following the story -- the movie's main plot aka the Beninzakura arc is interesting enough but can't really be appreciated nor understood by viewers who've only known the characters and setting for like 15 minutes (with a lot of context cut out).
That aside, the content is fine overall. The movie captures the series' famous wacky sense of humour very well eg. over-the-top slapstick, broken fourth walls, shameless body humour (including Japan's beloved idol Kanna Hashimoto picking her nose and vomiting, just to give you an idea), and shout-outs/parodies galore -- some so blatant you will crack up. The serious side of the story is nothing special but still enjoyable. The action is a mixed bag -- sometimes entertaining, other times rather basic. Editing/CGI is sometimes cringey but can be easily ignored. For fans curious about any scene changes or additions, there are quite a few but they're mostly well done so they shouldn't bother you. The climax/final fight (film-original) was the only scene I hated - without spoiling anything, it felt very forced and pointless.
Cast, characters:
The quirky likeable characters are the best thing about the series, hands down. There's unfortunately only so much a movie can show, but this film does a fairly good job at bringing the best out of everyone in its 2 hour run. Maybe my only disappointment is Takasugi -- in this film he's not a very interesting antagonist since they don't really flesh him out here (which is a shame, he's great in the original series).
The acting quality itself varies, but credit to everyone for making an effort to be in character. My biggest complaint was Nanao as Matako who was hella flat, I felt like all she did was shout stiffly and pose with her guns. Kanna as Kagura was a little meh sometimes but I think I enjoyed her a lot more than others did. She shined more in her comedy scenes, whether it be her casually being gross or her slapping Shinpachi epically in the face ("BAAAKA MEGANEEEE"). Everyone else was mostly good. Shun Oguri and Masaki Suda did well as the other 2/3 of the Yorozuya -- Gintoki's irritable and snarky yet caring nature is there, and awkward tsukkomi!Shinpachi is very much alive. My fave has to be Ryo Yoshizawa, who captured Sougo's casual deadpan character perfectly.
Music:
Not much I can say since I don't remember most of it but nothing bad. The guitar OST that plays during a certain scene is lovely! A plus for fans is that it's similar to the song played in the same scene in the anime :D UVERworld's promotional song for the movie ("DECIDED") is awesome, definitely stick around for the credits to give it a listen! Last but not least, big applause to the uh "song" Gintoki sings in the "opening", apparently made-up by Oguri himself. It is a hoot haha
Overall comments:
Don't expect a god-tier film or Gintama anime 2.0, because it isn't (nor was it meant to be). It's a cheesy fun movie that captures the Gintama spirit well and should be treated as such. New viewers may struggle to get through the film and I wouldn't blame you, but you may get something out of it. For fans, as long as your bias goggles are off, you'll be pretty entertained despite its flaws.
Was this review helpful to you?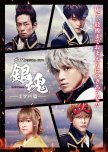 A short simple webdrama - nothing fantastic but I still enjoyed it! I finished this after I saw the movie but you can watch them in any order fyi - their stories aren't connected to each other. I will take new viewers into account (though I'm guessing mostly fans will be watching this haha).
Story:
Not a whole lot to it since 1) it's something more for the fans than new viewers, and 2) the point of the webdrama was to promote the movie. The plot alone is enjoyable enough but nothing amazing. Fans will appreciate it more since they have a better understanding of the characters, especially Okita Sougo and Hijikata Toushirou. I love the story mostly for the character exposition as well as the relationship between Mitsuba/Sougo. There's some bouts of comedy especially in Episode 1 (including some hilarious drama-original lines from Gintoki when he shows off as Sougo's ~good friend~), but it's mostly a serious series -- not a unique feelsy story but still a good feelsy story nevertheless. The quality of the episodes feels lackluster at times but it's only a webdrama so nothing surprising. For fans curious about any changes, there's some cuts in content but no big changes. (Also feel free to skip the entire opening segment with Elizabeth, Takeichi and Gengai in Episode 1, it's really unfunny and pointless imo.)
Characters + cast:
I'll focus on the two mains - Sougo and Hijikata, who get to shine here compared to the movie - but generally everyone else did a mostly good job at their characters. Shout-out to Mitsuba (the center of this story) and Yamazaki who only appear in this drama and not the movie - I think their actors did well enough. Oguri Shun basically brings our fave slack yet caring protagonist Gintoki to life, and Nakamura Kankuro makes the most out of Kondou's rather brief appearance.
Okita Sougo is the main character here, and you get to see the usually deadpan shit-head show a softer side towards his sister. Thank god for this Sougo-eccentric story because Yoshishizawa Ryo still blows me away, I can't get over how well he portrays him especially in the more emotional scenes.
Yagira Yuuya also gets to shine here as Hijikata aka our favourite grouchy but ultimately sincere vice-commander. Weirdly I feel like I liked him more in the movie than here (even though I'm pretty sure this was filmed later) -- he seemed a little stiff to me at times, but he got the character down-pat otherwise so I was pretty satisfied.
Music:
Not much OST to go around and nothing special but it fits the mood so not bad. The ED song, DECIDED by UVERworld, is great!
Overall, an okay and enjoyable webdrama! Recommended for fans who won't be picky and can just appreciate the drama for what it is, including a solid cast.
Was this review helpful to you?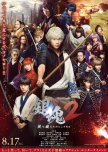 With the first movie being super popular, it's no surprise a sequel was greenlit. I saw this in my local cinema way back in September as a big Gintama fan and enjoyed it!
Story:
Although I mainly recommend this film to fans of the original series, anyone who's seen the first film should be able to understand this film too (the plots aren't related but you'll understand the general feel of the series and will be familiar with the characters, including the Shinsengumi who play a big role here). Like last time, a few comedic stories start the movie to show off classic Gintama wackiness before the big action-filled plot kicks in. A new character -- well respected Shinsengumi member Itou, whom Hijikata doesn't get along with -- schemes to take over the organisation. Betrayal ensues. Assassination scheming ensues. The power of friendship ensues. Parodies, fourth-wall breaking and dirty humour ensues.
While the plot isn't unique, it definitely tugged my heartstrings more than the first movie. Any bad CGI moments didn't really catch my eye this time since there's less of it; and I enjoyed the action more than the last movie, it felt better choreographed most of the time. Comedy is the highlight as always (I hope you're ready for more pixellated vomit and nudity), although the occasional scene felt longer than necessary. Re: the "faithfulness", there are multiple minor changes to the story, like the Shogun becoming more involved in the plot. They're nothing deal-breaking but aren't great changes imo (for example all the big action in the last half of the movie happens at daytime which I thought ruined the intensity a little).
Characters/acting:
I found the cast pretty solid last time and my opinion hasn't changed; again only the ever-so-dull Takasugi fell flat, but fortunately he has significantly less scenes here. Good spotlight for the Shinsengumi trio who only played a small part in the first movie; Ryo Yoshizawa as Okita again is my highlight, and though I'm not entirely convinced by Yuuya Yagira I think he did a decent job at portraying both Hijikata (the serious demon chief) and his alternate personality Tosshi (a wimpy otaku). The Yorozuya remain as humorous as ever, with a special shoutout to Shun Oguri as our favourite slacker Gintoki of course.
The new cast was also enjoyable, even if a few of them (Otose, Sarutobi) ended up with a lot less screentime than advertised. Itou is your standard misunderstood shounen antagonist but very enjoyable, and Haruma Miura did him justice. Ryo Katsuji does well to bring out the Shogun's dignified presence despite all the humiliation he faces. My only peeve was Otae's boss (Jiro Sato, who actually played another character in the last movie, the lolic-- uh, self-proclaimed feminist); his 5 minutes of screentime was enough to annoy me with his incredibly unfunny comedy routine.
Music:
OST is nothing memorable but nothing out of place either. A certain wild rap appears, and though not iconic like its anime counterpart it's still funny. Back Number's ending song for the movie, Daifuseikai (roughly "a very wrong answer") is pretty good.
Overall comments:
If you enjoyed (or at least didn't dislike) the first film then you'll like the sequel too since it's very similar in quality and enjoyment levels. Most definitely not a replacement for the anime and manga, nor the greatest film of all the time. Just a harmless funny action movie that will keep you entertained.
Was this review helpful to you?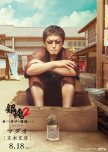 Weak but still funny.
A short webdrama that aired at the same time as the second Gintama movie to help hype it up. Unlike the last webdrama, it is entirely episodic and focuses on comedy rather than drama. The episodes do not relate to the movie so you are free to watch then before or after the movie! Either way, this is definitely for people who already know Gintama. I don't really recommend this to newcomers since I don't think it's that enjoyable from an outsider's point of view.
The first episode is about Kagura struggling to sleep (with Gintoki naturally suffering the consequences); the second is about Hijikata coping with the new smoking ban (since he practically lives on cigarettes, this of course ends well); the third is about Gintoki and Hijikata going the dentist (and acting like the totally mature adults they are). As the humour is Gintama's shining point (and also the thing this live-action adaptation is best at), this is a good way to have some laughs at ridiculous gags and storylines. The webseries clearly doesn't take itself seriously, as evident by the deliberately shoddy budget (the characters parodying certain shounen anime shows in one episode are basically wearing very cheap cosplay and that just makes things all the more funny). The episodes definitely feel very low quality at times though so you might not enjoy all of them.
Multiple characters appear but only two actually have significant screentime throughout the whole thing -- Gintoki and Hijikata. Kagura only appears in that first episode, but the rapport between her and Gintoki is hilarious so it makes up for her short screentime. The over the top acting feels awkward at times, but otherwise they bring a lot of energy and silliness into this webseries.
(Also, each episode starts off with Mastudaira chilling at the cabaret club, raving on about... things. Very boring things, honestly. I highly recommend you skip his segments. He is a hoot in the original series but brings absolutely nothing here.)
Overall a solid webdrama that Gintama fans can enjoy. Very hit-or-miss, but worth sparing 3 x 10 minutes of your time to laugh at some dumb humour.
Was this review helpful to you?