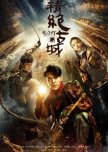 A breath of fresh air among Chinese dramas.
Though there are some other dramas that also relate to tomb raiding, Candle in the Tomb is executed best. A solid main cast, good sense of suspense, and an interesting storyline all made this my most enjoyable drama of the recent batch.
Jin Dong and Zhao Da are great as Hu Ba Yi and Fatty. Their acting and interactions made this a great watch, especially with Fatty being a greedy idiot. They also voiced their own characters, which added to their great acting. Joe Chen also does well as Shirley, being a strong and independent female lead, similar to some of her other roles. An Li Man was one of my favorite characters. I love the way he speaks.
The plot always kept me intrigued. A short drama, but it included multiple arcs. The mysteries of each place kept me hooked, and the cinematography, especially in dark places, was superb. I wasn't ever sure if our band of characters were safe. Romance was not prevalent but I do see a budding hint. No cheesy over-the-top romantic scenes like you see in other dramas here.
There are still so many plot points to explore and expand upon. I'm looking forward to seeing the sequels if there will be any.
Only con I think there is would be some of the side characters. Most of them were quite useless and just a liability for our main leads. How on earth were they chosen to go on a treacherous trek through the desert? And the drama just glossed over what exactly happened to them at the end (though I heard this was different from the novel).
Was this review helpful to you?