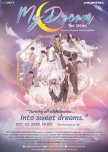 This review may contain spoilers
Ok, so this drama starts off with some good plot- all the story was goin good until episodes 6+ the story just got worse, like Yim's "lover" and Guide treating his girlfriend shit. The last episode gives off a viewer hungry vibe, they just made Dream run away while Way stands there, then Guide asking Tanai to be his boyfriend. I don't think the second season will be that good and I don't think I'll be watching it.
Other than that, another thing is the filming, i know that they aren't pros and the best company ever but at least the people who add all those crazy effects can check the recordings. Some shots look lazy and filmed terribly. I'm not trying to shit on the series but come on..
The music was ok, but I think they could have had more dramatic OSTs for more effect than the same one.
Thankyou for reading my review
Was this review helpful to you?