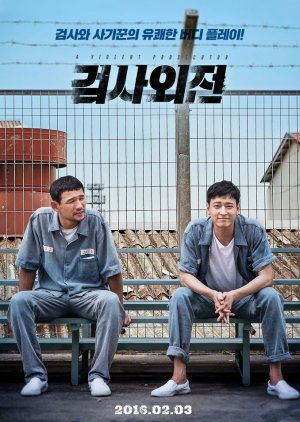 I have watched tons of k-dramas and films but was sort of lazy to write review, but THIS, this movie made me wirte my very first review eventually. I can't believe I get to see my favorite actors in one frame (Hwang Jung-min, Kang Dong-won, Park Sung-woong, Lee Sung-min and more!). I was quite surprised how I was able to recognize almost faces in this movies lol
I said this movie was cliche-ridden because it actually had familiar narratives for a crime/suspense movie. No remarkable plot twists and the story line was rather predictable. However, the conflicts and resolutions were developed gradually so the movie ended up satisfying, which didn't leave me a confusing 'eh?' at the end like some crime movies did.
BUT I promise you, the movie will be so entertaining that you wouldn't be able to pause halfway, because I couldn't too. This was thanks to the outstanding performance of the main cast and especially, the chemistry between Byun Jae-wook and Chi-won. Seriously, I lost count how many time I had to squeal because of their chemistry. Kang Dong-won exceptionally portrait a scammer (of course, partly thanks to his good-looking) since he used bunch of facial expression and intonation. And I praise the scriptwriter here as it was for the script that characterized the scammer. As for Hwang Jung-min, his role in this film did not stand out like his other previous roles, but still, he proved how top-star he is. A little bit about Lee Sung-min, this was my first time seeing him play an antagonist, so I found it quite interesting, and also he did a great job.
Another star for BGM. There was just instrumental music, nothing big, but I can see it did add a lot to the atmosphere.
So wrap it up and go watch it, guys!
Was this review helpful to you?