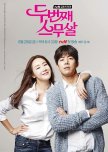 If there was one word I would use to describe this drama I would use ...meh. Watching it once is fine but it is nothing to rave about. It started out promising but the love story aspect fell flat for me. Many would say it is representative of a "mature" love but the chemistry is just not there. I've watching plenty of adult dramas that I thought did a good job on showing mature love and this one did a poor job at it.
Another problem for me had to do with Choi Ji Woo's acting. It just wasn't good here. Probably had to do with the director so I don't hold it against her. Choi's portrayal of Ha No Ra was wooden like the character she played in The Suspicious Housekeeper, lacking emotional depth for a character that has been through so much. Facial expressions were also problem with her character. It failed to draw me in and allow me to grasp the character fully. Kim Min Jae's character also was a miss for me. They should have had him play a minor character and got a better young actor to play the part. He like Choi lack proper facial expression and emotion.
Was this review helpful to you?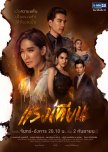 This review may contain spoilers
Story
The story could have been stronger but since it was adapted from a older drama, what can you expect. I also wished the FL moved the story along instead of letting the story move her along. But I still liked her. The ML is nice but while playing the peacemaker between his family and the FL, he neglects the FL's feelings. This fact in itself is the reason I appreciated how the drama ends because it sort of takes that into account. I personally did not like the ML's family and in-laws, they are awful people.
Acting/Cast
It is typical Thai drama acting for dramas like this. The cast did well based upon the script they were given. I would like to see the cast again in another drama together, a lighter one.
Music
The title song was good
Rewatch Value
After watching the complete drama. I felt that a 1 time full watch of the drama was all that was needed. That feeling was based on the fact I rewatched episodes while waiting for a new episodes to come out and was a little disappointed with the ending but not really.
Overall
Some might be disappointed by how this drama ends because it needs 1 more episode to truly feel complete. I don't mind the way ML/FL relationship ended. There were just too many issues for the relationship to progress in a healthy and proper manner at this point in their lives. Maybe a few years down the road they could get back together or not. The overall drama is worth the watch though if you have time on your hands.
Was this review helpful to you?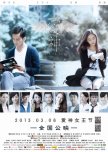 Good light romance
I liked how the writer of this movie weaved together the 2 original couples' story lines and how it was molded into one. For (Su Xiao Bei )Bella and Wu Tian Lang , we the audience get to see the relationship from beginning to end. The writer does a good job hinting at why their relationship won't last. Next we have Si Chong and Lili , their relationship is fragile and their upcoming breakup can seen from a mile away. The actors show us that relationships need tending and when one person puts things above the relationship it is sure to breakdown. Lastly, we have (Su Xiao Bei )Bella and Si Chong who are great together. Their interactions are fun and light and through them you can see that they are perfect for each other. So I would definitely recommend watching this.
Was this review helpful to you?