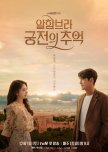 I started watching it by accident and absolutely loved it. The concept is intriguing. Gamers will find it riveting but non gamers will be awe struck. The visuals were beautiful and animations extremely realistic and convincing. Everybody would go bananas if a game like that would hit the market. For sure! Very interesting to see the interactions of a different culture that I have not been exposed to. I found it absolutely exquisite and intriguing. I had quite a crush on Yoo Jin-woo for a couple of weeks!
The constant replaying of the previous scenes were at times necessary but mostly unnecessary in my view. I skipped them quite often which is something I dont like doing as the series is so beautiful ,that I am scared I will miss a scene and I would like to watch each series without intervention to appreciate it optimally.
I enjoyed Ko Yoo-ra's antics especially in the end when it was said that she only marries rich guys. It was SO funny!
The main characters are very attractive and they play their roles very convincing. The end was a bit disappointing but I understand that a second series is probably planned. I will definitely be watching season two. Cant wait!
Was this review helpful to you?