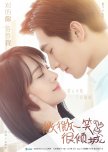 Love O2O
7 people found this review helpful
Overall, this is an interesting drama if you want something that strays a little outside of the generic plot-line. By incorporating online games into the drama it gave it a realistic feel as to how people meet in the 21st century.
The drama has its cute moments that are worth re-watching. Compared to the usual 40-50 episode Chinese drama this drama has almost the right amount of episodes. The only things that I didn't quite like about the drama was how repetitive some of the scenes were between Xiao Nai and Bei Wei Wei. It bordered on being predictable and almost unnecessary. The acting doesn't really evolve between Xiao Nai and Bei Wei Wei. It pretty much begins with instant adoration and love between the two characters. However, the length that Bei Wei Wei goes to suppressing who she really is in order to be what she thinks Xiao Nai wants in a girlfriend is kind of off-putting. In addition, Xiao Nai is supposedly a cold and collected character in the drama but he often comes across as flat.
Was this review helpful to you?