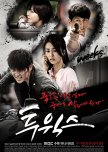 Two Weeks
41 people found this review helpful
I was bored one day and started making a list of dramas to watch on summer and well, Two Weeks definitely made it as soon as I read it had action (yes, I'm an action lover). Anyways, one day, after being emotionally ruined by You're All Surrounded, to clear my mind and ease myself I decided to start watching Two Weeks. Jesus Christ! What took me so long to actually start watching this drama? I should have started it when I found it! Such an amazing drama, I totally recommend it to you all. The story, God, the story. The way it starts and develops oh God, everything about this drama it's amazing; the story, the cast, the acting, E V E R Y T H I N G! Don't think about it and give it a try! So worth watching & I'm totally thinking of RE-WATCHING IT! Oh God, the characters and their own background story is amazing, totally loved it. Amazing and heart warming, that's all I have to say about this drama. If you're an action lover, don't think twice about watching this one and just watch it!
Was this review helpful to you?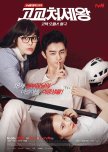 I finished this drama at 3AM, after that all I got was a massive attack of feels and couldn't sleep and had to wake up later at 6AM for school. Anyways, how am I supposed to explain how amazing this drama is? Seriously everything about this drama was so good for me, I seriously enjoyed everything about it! Such an amazing cast made me fell in love with it instantly! All the time I wasted suffering and going crazy waiting for the next episode to air was WORTH IT! Completely loved it!
If you want a good romantic comedy, what are you waiting for? Feel free to start this one right here, it's just great! C'mon, go right now and search for it on Viki or DramaFever or DramaGo or wherever you watch dramas! Check it out! :)
Was this review helpful to you?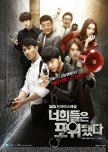 It's 1AM and I'm here, reviewing this drama, guess how much I loved it. Anyways, You're All Surrounded has definitely became my all time favorite drama. It seriously is the best drama I've watched since I got into this world. The story, the cast, the music, everything was amazing and very askdahskjd made. If you haven't watched it, what are you waiting for? This is such a MUST WATCH & REWATCH drama (at least for me). Seriously, hope you all watch it and enjoy it and love it as much as I did, go for it! Don't doubt it! ;)
Was this review helpful to you?