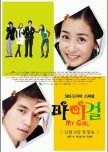 My Girl
16 people found this review helpful
This was one of the first dramas I watched and yet, after many others seen since then, it's remained one of my favourites. As opposed to others, I loved that the writers let the protagonist's relationship really develop until anything actually happens between them. It really made their attachment believable and it really caught my heart.
Lee Dong Wook and Lee Da Hae really impressed me with their acting skills. I often find the childishness of the leading women in Kdramas annoying, as I feel it makes them look downright stupid, not cute. Yet Lee Da Hae's portrayal of Yoo Rin was unexpectedly endearing and funny. Lee Dong Wok was amazing in this role and he didn't play the character as too cold and arrogant, but just right.
I don't know what it was exactly about this drama that really grabbed me, but when it did, I was hooked. I usually hate extreme silliness or angst, and but for a few moments, this drama did these elements perfectly. In addition, even the secondary characters' storylines were interesting and captivating. I often find myself skipping through these plot lines, but, here, even the second male lead seemed more than just an instrument of conflict.
Overall, for me, this drama will stay as one my favourites for a long time for its simplicity, clever humour and well developed romance. Some scenes will stay in my mind forever like the orchard scene, the moving elevators or the romantic farts of Mrs In-Sun. I really recommend this drama!
Was this review helpful to you?