The website is currently undergoing maintenance. Sorry for the inconvenience.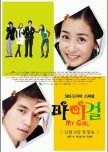 My Girl
15 people found this review helpful
My Girl -(This contains spoilers. So those who have not seen,please read the first couple of paragraphs)
This was the first Korean drama that I ever watched. I was lucky(or should I say unlucky, as this was the first drug that started my addiction) to have seen a Hong Sisters drama on my first attempt. Yes, for the the first time in my life, I felt like I should write more. These writers are amazing. Their scripts are not the racy, fast paced and keeps you on the edge kind. But, rather, my heart is about to burst from the overload of cuteness kind. However its not all fluffy either. They keep the plot gripping to make you want to know what happens to the characters.
Enough of my rambling about the writers, coming back to the drama, it was splendid. Not so awesome that it had no faults kind. But with all its faults, makes you want to watch it over and over again kind. Its negatives were: the over the top histrionics indulged frequently by Lee Da Hae, the bland reactions of Lee Dong Wook, the want to smash your face Park Si Yeon, and whats with your hairstyle and clothes Lee Jun Ki. To be concise, too many. But it more than kind of made up for all this with the amazing hwaiting from Lee Da Hae, the so gorgeous to look at Lee Dong Wook, the know it all and going to get my heart burnt Lee Jun Ki(who I actually liked a whole lot more than the usual second leads in Korean dramas) and the cool but simple twists and turns in the story.
The plot was quite simple: Ju Yoo Rin is a tour guide in Jeju who gets in to trouble with money lenders because of her father's gambling debts. Amazed by her wiliness and her ability to get out of tight spots, Seol Gong Chan, a rich Hotel Chairman's grandson(how convenient!) hires her to act as his fake cousin(sachon), who went missing in an earthquake in Japan, in order to resuscitate his grandfather from his illness and guilt. What was intended as a one time visit gets extended to a stay as the grandfather recovers and adores her. But things quickly go downhill with the appearance of Kim Seo Hyun, a world famous tennis star(all she knows are a couple of tennis shots, he he), who returns to Seol Gong Chan's side after having dumped him to deal with his parents death and run off to play tennis. It is Yoo Rin who gets them together but she realizes that she has fallen for Seol Gong Chan despite his surly ways. This, coupled with the fact that she is not the real cousin, is discovered by Seo Jung Woo, who happens to be best friends with Seol Gong Chan and whose family owns half of the hotel's shares. Yoo Rin knows that Jung Woo knows but he tells her that if she tells this to Seol Gong Chan, then he will blurt out the fact that she likes him as well. Since Yoo Rin desperately needs the money, she stays put and tries to act as the dutiful grand daughter to the family. What happens next is how they try so hard to keep up the pretense and how the lies build up and then fall apart. Like Yoo Rin says, lies are all about timing. You need to get out of it pretty quickly. So you can clearly see how that is not going to happen. Lol!
It is so much fun watching Gong Chan and Yoo Rin together that at odd times, they truly were like siblings. I could not detect any romantic tension or chemistry between them. This was a major flaw in the drama. Not that it deterred me from watching it. It was adorable to watch their interactions. Some of my favourite scenes in the drama were when she adorably tries to fool him in to believing silly stuff like "walking on the white stripes of the zebra crossings will bring good luck", "count till five and if the person you like appears before you, then you will love them", "hold your breath in the elevator and make a wish and it will come true". And when he naively tries them and when she laughs at him for believing it, I laughed along with her. Their scenes together were so cute that I often found myself bubbling up with sweetness. I also especially liked the fact that any misunderstanding they have(for instance, the fact that she pawns the gifts that she receives to get her dad out of jail) gets quickly resolved and does not drag on for episodes. And also he makes a clean break with Seo Hyun, the minute he confronts his feelings for Yoo Rin. And he holds on desperately to her even when she wants to leave and does not put on any noble idiocy act of letting her go.
Seo Jung Woo was an interesting character too. The opening he gets, waking up in bed with an Italian girl and getting chased by her husband was actually strangely cool and he is actually the first to fight for and protect Yoo Rin, when she gets attacked by money lenders. He is fascinated by Yoo Rin as he sees her in different situations and places that it is tough for him to actually figure out who she is. What starts out as curiosity makes him fall head over heels in love with her as he discovers her secret, the fact that she fights her feelings for Seol Gong Chan so hard(as he has a girlfriend and she cannot like him)and also tries his best to protect her in his own way. Yoo Rin initially thinks of him as a good friend and whenever he acts troubled, goes out to cheer him up. But the minute he confesses his feelings for her, she makes a clean break with him and tries to avoid him at all costs. I loved this because unlike most leads in dramas who tag the second leads along and dump them at the end cruelly, she always makes it plain and clear that she does not like him. Of course, that does not stop him from trying hard to get her. There is this one scene when the Seol family tries to set her up with him and he says, " Why dont we do this for real?" and Yoo Rin replies, "In your personal Olympics, having collected women from every country, you are trying to make me the Korean representative?" sarcastically to hint at his playboy ways and leaves. But when he replies, "In this Olympics, Korea will most definitely be the winner",it broke my heart a little. And when he officially proposes to her and asks her why she cant be with him, she says, "I cant be with you because then I ll have to face Seol Gong Chan everyday for the rest of my life", it made me gnash my teeth and exclaim, "girl!, Cant you be a little less cruel?". However, when Yoo Rin and Gong Chan officially get together,he gets desperate and tries to blackmail her in to coming with him to the US, I hated him for a brief time. But just for a brief time, hehe. Everytime Yoo Rin cries to him, claiming that she cannot bear the pain that she has in her heart of being near Gong Chan and having to pretend to be just his cousin, he says,"Remember this! You can only be this way with me! Because only I know the real you and you do not have to pretend in front of me!", it was so awesome and sad. There are many others like the scene where Yoo Rin pretends that the chilli that she ate was not very spicy and makes him eat it and then says, "This is how you must pretend. Pretend steadfastedly that you don't like them at all", it is done with humor and a tinge of sadness. However, all his scenes are not melodramatic. There are a few scenes, where the three of them(Yoo Rin, Gong Chan and Jung Woo) go to a movie and he says he is Gong Chan's husband and they laugh over it at Gong Chan's expense. And when Yoo Rin falls asleep watching an action film(thats so me!), he takes her head and rests it on his shoulder, making Gong Chan jealous. All in all, he was an interesting character. Now if only they had not made him look so androgynous, I would have probably loved him more. Yes, had to mention it. What was up with the so obviously girly hairstyle and clothes. Wonder why they did that!
There is however nothing much for me to say about the other second lead. Seo Hyun was not pretty and so annoying that there was hardly anything for me to even remotely respect her. I did not hate her for leaving Seol Gong Chan in the first place nor unashamedly coming back to him, but I did hate her for expecting things to be the same way as they were when she left him. I expected her to break the secret to the grandfather and thats what she did, so no surprise there. But when she hides the fact that Yoo Rin's father saved the real granddaughter from Gong Chan, that was the last straw for me. Her acting was so mediocre that at times, I felt like I was re-watching the same scene as she had the same kind of expressions on her face. A totally forgetful performance by Park Si Yeon. This dislike forbade me from watching Coffee House with her as the lead.I have not changed my mind and I still am debating on whether to watch it or not.
There are a few other characters and few funny incidents which are cute. Like the romance between Yoo Rin's friend's brother and Gong Chan's secretary and the over the top but hilarious romantic scenes between Gong Chan's aunt and the Seol family's caretaker(he is more like a butler), for example. And who can mention the granddaughter-adoring grandfather, who later turns out to be the scariest and meanest grandfather in the K-Drama landscape. Veteran, no other word.
This series pulled me in to the Korean Drama world in January 2010. I have still not got bored. Its almost like I discovered this whole new way of living. I have come a long way from January 2010 and I don't think that I will ever give up watching K-Dramas which has brought me so much fun. What with the oppas and eonnies and ajhummas and ajhussis and harabojis.. I am having so much fun, guys.. Like most people watching Korean drams, I do not understand Korean though I am making an effort at learning Korean. I would like to thank all the subbers out there who have made it possible for me to watch the dramas. Hopefully, I can sub dramas too, couple of years down the lane. In my next post, I will probably start my review of another series that I enjoyed. I would also like to mention Javabeans and Girlfriday and thank them for their posts and their awesome site dramabeans which motivated me to write about this . I can never be as devoted and good as they are. But this is my way of showing that I love korean dramas. Eonnis, kumawoyo. Aja! Aja! Hwaiting!
Was this review helpful to you?