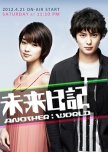 The drama and anime was so different but it's okay since I was looking for new, this is less gory compared to the anime/manga though haha. I find it boring from episode 2 to 6 until I watched episode 7 and reveal what are the twists of this show. It excites me a bit of what will happen next, it surprised me many times from that episode though.
The plot is interesting and how they changed it from the original manga, well I'm expecting that they will do the same as from the manga but I'm glad that they didn't disappoint me from how they changed the plot and it entertains me. I was satisfied for the ending even though I want to see more of their story after what they had experienced.
At first I feel that the actors/actresses was like a random pick. For me it didn't fit for them to play that role but I it grew to me and accept it because their acting wasn't really bad at all. And as from the actress of Furusaki Yuno, I think she will be a perfect choice for the original female protagonist, Yuno Gasai which is a psychopathic girl of Mirai Nikki's anime/manga series if they didn't change it. When I check the casting and saw her, I got a feeling that Yandere characteristic is fit to her. The music wasn't bad but it lacks suspense, I love the ED theme though.
This series was worth watching especially to those who haven't read the manga or watched the anime. Go try it!
Was this review helpful to you?