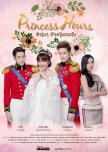 so far (14/20).... it's quite similar to the Korean version, with of course, it's original twists...
I've read some of the Goong manhwa, and I wont complain and say the Prince (Inn) is just the same jerk as Goong (both the manhwa and the Korean adaptation) .. he kinda HAS to be in order to stick to the original manhwa...
but I will say... its cute, it has it's nice moments, and the evil Queen (holy guac, that lady should be asked to play a Disney villain) she's so great for the part.. but doesn't fit in with the rest of the characters... her acting stands out the most, it's too forced, and too wicked, not to mention her makeup always looks flawless!
Other than this observation.. I have found the series so far.. (14/20) to be kinda super extremely slow pace, but maybe I'm not being patient enough.
Was this review helpful to you?