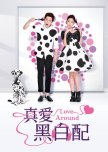 I love T-Dramas, and I loved this drama, but I will admit by the last few episodes, it really began to drag, and was wishing for its end. Keep in mind however, this is not to say I found it boring or terrible, but there was a lot of unnecessary scenes that I felt took away from a lot of the potential that could've been.
This is not my first Taiwanese drama, but it is the only one I've finished so far, so I can't yet compare it to any others yet. It's hard for me to be detailed without spoiling some things, so I'll avoid doing so. Let me go through some of the general pro's and cons.
Some pro's I liked about this drama is that even though Liang Xiao Shu (female lead) and Zhou Zhen (male lead) were a bit head-to-head at the very beginning, this drama had a different pace in that it wasn't your typical "love-hate" based romance, which is extremely common in Asian dramas. Although I am a fan of that trope, sometimes it's overdone, and this drama didn't go that route. The main leads are pretty much on good terms since early episodes of the drama, so this is a breath of fresh air for anyone who wants a less "hidden-but-we-all-know-its-there" romance. It can sometimes be a little cheesy, but this is still a melodrama, and around episode 9-10ish is when the real serious drama begins. I won't say what. The side characters are just as enjoyable, and watching their own love lives bloom can be just as fun as well.
Some con's I had were that from around episode 15-16ish and onward (of 21 episodes), it begins to drag. I don't mean this as in boring, exactly, I don't really feel that it was boring. However as I've stated earlier, there's a lot of unnecessary drama that takes away from valuable screen time for more interesting and relevant scenes between the main and even side characters. It's lead to an extremely rushed and almost unsatisfying ending. The ending makes you happy in a sense, but in another, there's something that makes you wish you'd seen more of some things and less of others.
It's hard to say whether or not this drama is worth the full run through. I'd say to watch and make that personal decision. On one hand I really enjoyed it, on the other, it could've done a lot better.
Was this review helpful to you?
Let me start off by saying that I loved this drama!
At times it made me cry, it made me laugh, and the whole way through it was enjoyable. So now to try to give a review without spoiling anything.
Now, the drama isn't anything incredible or special, but it does have it's charm and it is underappreciated in my opinion. The show starts following the common mold of the two main protagonists, Sun Wu Di and Mei Shan Bao, as enemies who soon develop a friendship and even something more. Fortunately, in the case of this drama, that doesn't stagger longer than necessary, and the development of their interactions are reasonably paced and not too forced.
The acting was pretty good, although at certain moments I feel certain actors were overdoing it (though it may have been for comedic effect). I feel that although the drama overall can be considered light and comedic, there were quite a number of dark and melodramatic situations. I'd rate the acting for the leads at about an 8.5. I also really found it interesting to see Roy Chiu play the character he did. I haven't seen him play an antagonist role prior to this drama, and I feel that he did a fantastic job. What's best is that his character isn't some jealous antagonistic a-hole for the sake of it. This character's psychological status and doings were all as a result of valid reasoning against the protagonist.
The music was alright, although I really only enjoyed about 2 of the songs I've heard. One of them being the theme song. I'd rate the music at about a 6.
Would I rewatch this drama? I *personally* wouldn't, but that's mainly because I personally have a tendency to put shows off longer than intended and I already have enough shows (Asian drama or not) that I plan to watch. For other people however, I'd say I'd rate the rewatch value at about a 6-7.
I'd give the storyline an 8 and the overall rating a 7.5, maybe 8.
Was this review helpful to you?