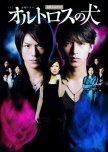 This drama was seriously a lot more than I expected at first. A really good drama which showed lots of central questions of human beings! What is good? What bad? Peoples weaknesses are tested in here!
So this drama goes deep! Also the cast was exceptional! Both main actors did a really great performance as well as the female supporting role who plays the detective, Nagisa.
The music is refreshing and fits the different situations of the drama.
Overall....WATCH THIS!!! if you want to see a drama with great emotions, deepness, great actors and an very exiting and interesting story!!
Was this review helpful to you?