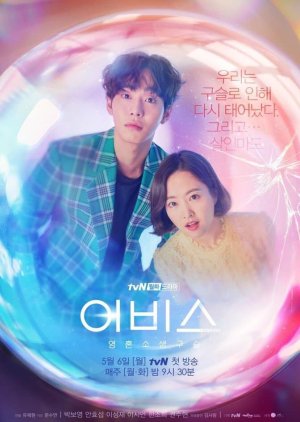 This review may contain spoilers
Abyss is one of those shows thats premise is full of potential. Unfortunately, throughout episodes one to twelve, this premise is explored nowhere near as much as it should be. The "abyss," which is a magical ball which essentially grants the user power over life, is seldom used, or explained, which is a shame as 45% of the drama's description talks about it and it sets you up for a more heavily paranormal story. In the final 4 more episodes they use it more and in episode 16 (the last episode) its value and relevance literally disappears. The abyss itself is poorly explained as the story goes along and is quite confusing. The information dump in the last few episodes is really jarring.

The story as a whole, though not atrocious, is exceedingly meh for a crime drama. One of my main gripes with this show was that though it sets you up for a romance, crime and paranormal story. The paranormal and romance elements are very short, and I understand that it is a crime drama but the long crime scenes that do exist usually only add superfluous information or have seemingly no relevance to evolving the plot.

From episode 1 of the show, as soon as the villain was introduced I was 100% sure that he would be involved in Seyeon (Park Bo Young's) death, and they gave out the name of the secondary villain way too early. I think the show was relying on this imaginary suspense that really wasn't there. I'll admit I don't watch a lot of crime dramas so I don't know if this type of bland story is the norm (or better) than most but for one of my first crime dramas I was unimpressed.

I will wholeheartedly admit I started watching this drama because of my love of Park Bo-Young in her other dramas, even though I had watched other dramas with Ahn Hyo-Seop I had never found his portrayal interesting enough to seek out all of his works. I feel like the role Park Bo Young played in this drama is very similar to a lot of others she has played but that's definitely not a bad thing. She's great at it and she fits the character well (except, I don't really agree with the asessment of her beauty as plain, but that doesn't have much to do with her) and Ahn Hyo-Seop and her had really great chemistry. I was honestly surprised, their relationship was really pure and sweet, and it was interesting to see evidently how long they had both been interested in each other, even though the first few episodes stated otherwise. In the last few episodes especially, their relationship was really wholesome and fluffy, even though I think the timing of some of their relationship moments was an odd juxtaposition to the other events occuring.

The side characters were honestly, at times. a lot better than the mains, probably, because the actual script was written so that they were placed in more extremist situations and experienced a large range of emotions. I thought Han So Hee (Heejin) was really good, and I went through the experience of initially disliking her, to liking her, to disliking her again, to liking her again, like the script writers probably wanted me to feel. I think the strongest of all of them was probably Kwon Soo Hyun (Ji Wook) because I got bad vibes from him from the get-go. He was genuinely convincing in every scene he was in and I think he did a very good job of delivering every inch of the meh script. Personally, I thought the person who did the weakest job was Lee Sung Jae (Young Cheol). I don't know if it was because I found his scenes the most boring out of all of them rather than suspenseful or if it rested more in his blase delivery but I enjoyed him the least. He wasn't bad though and suited the purpose of the show.

The music wasn't very memorable, but it worked well with the show and I found myself nodding along sometimes. My favorites were "Into the Abyss," "Stay" and "Fallin'." Though, I think there could've been overall better music placement it served its purpose well.

In conclusion, I feel like I probably will rewatch this show but not for the best reasons. It's on Netflix, and it's all-round easy to access so I can see myself rewatching the more light-hearted episodes or the last episode. I can also see myself wanting to rewatch the cute romance moments or some of the more heartwarming moments. I don't see myself ever wanting to rewatch the entire show because the mystery aspect isn't the kind where you discover new things and go "aha!" every time you rewatch it but more like you watch it once and there's nothing new to uncover. I would recommend this show if you like Park Bo Young and if you're interested in watching a crime drama for the first time because this is a pretty basic, easy to follow, way to start. However, if you're looking for a show about the paranormal or romance which Abyss promises this really isn't the drama for you.
Was this review helpful to you?