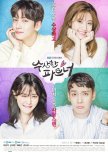 The drama started off well it gets little draggy in middle but come on which drama doesn't it has a normal plot but the twists and turns are really amazing. The ending is just perfect
Really a lovable drama with lovable cast. The journey comes to an end. Woah! What an incredible journey. If you are up for story then it may keep you glued to the screen or may not. Cause this drama has mixed viewers. The ending was amazing with every character giving you space for open analysis. These are like real life characters. Nobody is perfect, nobody is strong all the time, sometimes love loses in front of circumstances but in the end find their way. The amazing chemistry between NJH and JCW is really a huge factor why this drama has been loved they did more than justice. No other couple can really make me fall for them like jibong.
So if you are here for the reviews ignore the hate comment and go and see it for yourself.
This drama gifted me my new favorite korean actress. Nam ji hyun. What an incredible showcase of emotions she can convey. The ending-she caught me off guard. I cried only when she cried. She deserves super appreciation!
And of course ji chang wook you will always be my bae I love you more after this drama
I may be wrong but I have noticed one thing Koreans have loved this drama when I see the comments on korean and other digital platforms koreans have always been supportive most of the negative comments about the drama have been made by immmature fangirls and jcws previous costar fans or shippers
This drama is definitely a must watch
SUSPICIOUS PARTNER SARANGHAEYO
JIBONG
Was this review helpful to you?