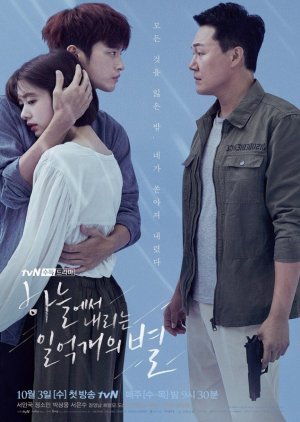 This review may contain spoilers
I just finished the drama and needed a few hours to collect my thoughts. My review is going to be pretty unpopular as i did not love the drama. This is extremely weird for me as i adore the cast ( especially the 2 leads, In Guk and So Min) but the story overall is just okay. The plot left me feeling shortchanged at the end of it. This review contains spoilers so please stop reading if you have yet to watch the drama.

**SPOILER ALERT**

Jin Gook is the saving grace for this drama. He has so much empathy and depth. Sung Woong did such an outstanding job bringing him to life. I could feel his despair, frustration and helplessness towards the whole situation. I didn't cry at the end when the leads died but cried terribly when Jin Gook ran into the house. Poor guy gonna live with even more guilt for the rest of his life...

Despite liking the core of Jin Gook's character, i couldn't get over the following inconsistencies to the story.

The stabbing scene... There was hardly any reaction nor consequences to it. Everyone just went about their lives as though it never happened soon after. Jin Kang just treated her brother as per normal. Like i can't fathom how could one stand being in the same room as someone who just stabbed your boyfriend? And also his colleagues just kept him in the team and rejected his resignation despite his shocking confession ... I really don't get it.

The way the team treated Jin Gook was so uncalled for. It was as though Jin Gook set out to kill with ill intentions but it was never the case. Yes. He shot someone and that person died. But it was all out of self-defence and it's nothing out of the ordinary for a policeman. I hated the fact that the writers built up so much suspense for this and at the end of it, I was left thinking "wait...That's it?".

Let's talk also about poor Seung Ah. She was totally dispensable to the story. Her whole life was pretty much a joke. For her to die off "in the name of love" with someone who didn't care one bit for her, to having her"bf" and bestfriend falling in love immediately after the accident, how much more pathetic can her character get? Soon after she died, they basically erased her from the story. No traces of Seung Ah whatsoever until that one scene where Moo Young breaks up with Jin Kang . I just wish they did more with her character (the same can be said about Cho Rong). I can't understand how Jin Kang is such BFF with her (Crying that hard at the funeral) and yet do such a thing to her.

And oh yes, don't get me started on the ending as well. How abrupt was that? ! Also, lack of chemistry between the leads is a little painful at times. There's way more i could say but i shall stop myself here.










Was this review helpful to you?