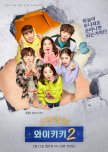 For me this season was good, I really enjoyed the plot and found new favorite characters, too. And I was excited to see Kim Ye Won since I have loved all her acting in other dramas.
My favorite character number 1 was definitely Ki Bong. Then (of course) Yoo Ri, Joon Ki (and Rebecca).
Joon Ki was great as always, his laugh is still the best and with Jung Eun had an enjoyable story. Then there was Woo Shik and Soo Yeon. Even from the start, her character annoyed me so I wasn´t surprised that through whole drama I didn´t grow fond of her. However, I liked Woo Shik, I found their relationship story boring and skipped most of their scenes. And now my most beloved couple Ki Bong and Yoo Ri: they were so adorable, perfect, cute,... and I loved their ending.
In conclusion, this drama made me laugh, cry and adore Ki Bong & Yoo Ri couple, and I really liked it.
Was this review helpful to you?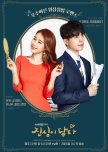 This review may contain spoilers
I wanted to start watching this drama because of the cast since I loved Goblin. But at first, I was skeptical as I don´t like stories with actress/actor characters but I said I will survive it. And I don´t regret it.
The drama is light, romantic and funny. It´s perfect for sitting on the bed and let the story wash over you. I liked the main couple and enjoyed them getting together. Choi and Dan couple was great, too. I totally adored them and thanks to them I laughed so much. And after the main couple broke up they were the only reason I finished it.
This drama wasn´t perfect but acting, the story is good and I enjoyed it.
(And one additional star for this drama since it doesn´t have second male lead chasing after the female and her choosing between two males, hooray!)
Was this review helpful to you?