If you're still experiencing technical difficulties, please report it
here
.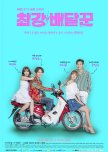 I really enjoyed this drama, it was fresh and had a unique story line. The characters were all pretty likable, all flawed people trying to find their way in a suffocating society. It was funny, sad and the romance isn't overblown against the main story. My only complaint, which affected my view of this drama a lot unfortunatly, was the ending. It felt extremely rushed, as if the writer ran out of ideas on how to end the series. The resolution of the story line is pretty shoe horned. I would still recommend this drama though, it was very fun to watch.
Was this review helpful to you?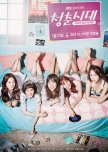 Brilliant slice of life drama, the acting was superb from all members of the main cast. Each of the girls  have their own personalities and traits and it's a joy watching them interact in that house. The story is  also very interesting,  i was  invested in jin-myung , yi-na and ji-won(my favorite) especially.  I was sometimes bored by eun jae and how mopey she was, but this is a minor complaint. I would highly recommend this drama, it's hilarious, tragic and ultimately very entertaining.
Was this review helpful to you?