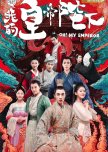 Technically speaking, I don't think this drama is very good. HOWEVER, it doesn't take itself too seriously and manages to be fun and enjoyable despite the flaws.
STORY:
The storyline is pretty light for the most part. The stakes do get raised towards the end of the season, but it's not too overwhelming. There's a big bad villain with some kind of evil plot, but that stuff mostly just plays out on the side. I personally felt that the ending to this season could have been better (like more impactful or something), but it does its job in making you want to watch season 2.
The romance is also light and fluffy (....until the end, I guess). There's some sort of love polygon between Fei Fei, Tang Yi, Mo Ran, and the other girl zodiac whose name I can't recall. But no one in the polygon is truly evil or mean, which is always refreshing. There's another romantic storyline between the other-other girl zodiac whose name I don't remember and the guy zodiac with the goofy pom-pom beret, but I didn't really care too much about them to be honest.
ACTING/CAST:
Zhao Lusi is really cute and charming - I really like her here! Xiao Zhan (Mo Ran) and Wu Jia Cheng (the emperor's little brother) were also stand-out. Like a lot of the other viewers, I liked Mo Ran a lot more than Tang Yi even though the poor boy never even had a chance :( I feel like Xiao Zhan pulled off his character better than Jason Koo did his, but I think the writers share at least some of the blame for that.
MUSIC:
Not too bad. I think the producers REALLY liked that one insert song, the cute indie-sounding one that Zhao Lusi and Jason Koo sing. It reminded me a lot of Double Trouble Couple from Do Bong Soon lol
OVERALL:
This is a good show to watch if you are looking for something fluffy and light, something that won't work your brain cells too hard. I didn't think I was going to enjoy this show, but I ended up marathoning the whole thing! Flawed, but charming and enjoyable.
Was this review helpful to you?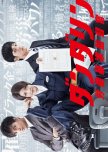 This is one of my favourite j-dramas!
Story:
It's an episodic show - each episode focuses on a different aspect of labor standards in Japan. I know it doesn't sound very exciting, but the show manages to keep everything interesting and fresh. Not every resolution in the show is a perfect one; there are negative repercussions and not every ending is necessarily a happy one. Despite that, the show is quite funny and it never feels too depressing, even in its heaviest moments.
Acting/Cast:
It subverts a lot of workplace j-drama cliches - Danda Rin is not your typical, overly idealistic protagonist and her new co-workers are pretty competent (just a little complacent maybe?) and they don't hate her for no reason. Everyone is actually pretty charming and likeable.
Takeuchi Yuko plays our titular Danda Rin, an uncompromising labour inspector who made her last boss lose all his hair from stress. She's principled, but not preachy. Like I said, the supporting cast (or her coworkers at least lol) is quite likeable. The eventual comradery that develops between them and Danda is lovely to watch. For me, the two bosses Doteyama and Manabe, played by Kitamura Kazuki and Sano Shiro respectively, were the most enjoyable and memorable of the bunch. Doteyama is particularly entertaining and I loved his side-story.
Music:
Music is pretty well used and never overwhelms the scene. It's nothing to write home about really, but the background music was always complementary.
Rewatch:
I've actually watched this show I think a total of.. 3 times? Something like that. I typically like to rewatch this show in its entirety, so it's not something where I'd just reach for an episode when I'm bored.
Overall:
A really excellent drama. Would recommend to anyone!
Was this review helpful to you?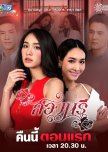 Surprisingly enjoyable! I started watching this out of boredom and ended up finishing within a few days. For me, it has just the right amount of makjang to make me wanna keep watching without it being absolutely crazy. I didn't have any expectations going in, but I felt pretty impressed/satisfied by the end.
Like a lot of other commenters have said, there isn't a ton of romance in this show. I would say the family melodrama has a bigger/more prominent role than the romantic bits.
STORY:
This lakorn has a bit of a slow start, as all the pieces of the story fall into place. Once the twins meet, which I think is about halfway through, things definitely get spicier. Most of the characters (except Pa, Neung's stepdad) are rather sympathetic. I appreciated that (most) of the 'evil' characters had some dimension, they weren't just raeng for no reason.
I liked the way they dealt with Neung's character. She does a lot of deplorable things, but she also very clearly has a mental problem and a conscience. I think they did a nice job of making her a sympathetic character, even as she spirals out of control. Song isn't as compelling, since she's already a good, nice person, her character doesn't have a whole lot of room to grow. However, she's still likeable and she's one of those rare nice-girl characters who isn't super weak. Her relationship with Ard is quite cute, I wish we got to see more of them together.
Also, Ying Yuot is an absolute saint. Seriously.
ACTING/CAST:
Everyone did a pretty good job here, I think! Min especially impressed me; she did a really great job differentiating Song and Neung. I think she did an especially good job with Neung's unhinged moments. Oftentimes, I feel like those scenes can get kinda cringey, but I think Min sold them pretty well.
MUSIC:
Just your normal lakorn music here, I think. Nothing special, but nothing bad.
REWATCH:
Honestly, this show doesn't have a lot of twists. It's pretty straight-forward, so I think it should be easy to rewatch it without losing too much enjoyment.
Was this review helpful to you?