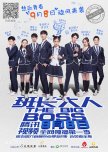 Cute to the CORE . Don't believe me? watch it for yourself !!!  ;)
p.s don't expect lovey dovey scenes to be abundant in this after all the age group is ... :[
BUT!!!! if u like comedy and cute yet sudden plot twists this is it u found it !and if u like fantasy suff this is the one !
    >>> Oh   my   ...    they     said     it     must     be     500     characters     in    length   so     if     u    don't     mind    me    i    have    to     fill    up    this    gap     right     here    XD
Was this review helpful to you?