The website is currently undergoing maintenance. Sorry for the inconvenience.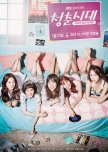 Age of Youth would bring you an enormous nostalgia if you happened to stay in a dormitory/apartment with people who were first stranger to you (or even when you are currently living together with roommates with different stories and personalities.)
The drama has 12 episodes (one hour each). One might think it would not be possible to fit in five stories in twelve episodes, but watch it first before doubting. I found it amazing as to how the team was able show everyone's stories without shaking off the scenes' transitions. And that the story's direction was clear enough to be followed by the audience.
Age of Youth was able to depict the realness and pureness of a person. Everyone has their own struggles in life. They have their own ways to overcome those. Others may need someone to lean on, someone whom they can easily share their thoughts with, someone who would understand them. While on the other hand, there are those who would rather keep everything to themselves and try to solve it on their own for they have built a wall separating them from the outside world. It may seem pathetic and frustrating but baby, it happens and there are people living this way.
Throughout this whole process, the five leads were able to slowly open themselves up to each others and from being mere strangers, they have grown to appreciate one another that eventually leading to them treating them as sisters.
It was a story of what life is when you are young. You feel lost. You feel like you are not enough and the world does not deserve you so you better perish as you think you are doing a favor for everyone's sake. But no, youth is when you gain experiences that would be your foundation for the next decades of your life. Here's to when you would gain and lose friends. You would would experience love and heartbreak. Youth is nothing but a series of events which requires you to surpass in order to live your life to its extent. Youth is where you must enjoy your life the most.
Was this review helpful to you?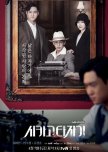 I just finished watching Chicago Typewriter around 45 minutes ago and I can't help not to post a review about it so here it goes:
I kind of "dropped" the drama after its seventh episode (when it was still on air). I found it boring and interpreted the twists as shallow ones. Well, my busy schedule could also be one of the causes why I had to stop watching this. In fact, my brother continued watching this without me so he was obviously ahead of the story but I did not really care at first. Until yesterday. I was running out of dramas to watch so I decided to finally resume watching this one. (NOTE: If you plan on getting yourself involve in Chicago Typewriter, learn how to refrain from checking your phone from time to time for it would distract your focus. One must have a full attention while watching this because he/she would probably end up having messy thoughts for not following the scene's direction. )
I was regretting that I dropped this for a while. I never knew this would actually bring so much joy and unfathomable feelings to me. I have since loved period dramas especially those with political and social struggles in it. And this drama was able to depict the 1930s Japanese Occupation in Joseon where the brave youth of yesterday stood up in order to regain their country's democracy. Through this, the audience was able to picture what it was back then, and how those heroes fought for the independence we are currently savoring. It was a story of hope.
This success would not have happened without the chemistry of the actors. Yoo Ah In and Go Kyung Pyo's tandem was really magical. They have portrayed Han Se Ju/Seo Hui Young and Yoo Jin Oh/Shin Yul well and showed their characters' uniqueness. This also goes for Im Soo Jung and Yoo Ah In's team-up. And of course, their trio really appealed and brought the audience root for them. Honestly, I did not even want them to be apart until the end.
All in all, this drama needs to be seen and be appreciated by the generation of today. Not only they would gain knowledge on history, but for them to admire what our forefathers have done in order for us to enjoy the liberation we are having now.
Was this review helpful to you?